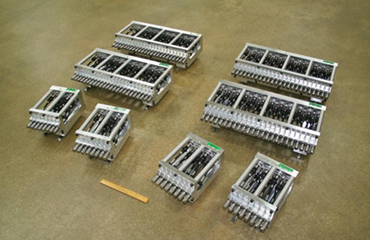 Hypneumat Automates Multiple Spindle Heads Totaling to 128 Spindles
Hypneumat, Inc. manufactures an array of automatic drilling units, tapping units and multiple spindle heads under the Hypneumat, Commander and Snow brands. Hypneumat also specializes in contract machining services offering multi-axis turning and vertical machining capabilities.
They have completed a number automation solutions:
---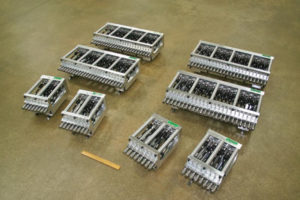 One of the latest exciting projects for Hypneumat are the 8 – Multiple Spindle Heads totaling 128 spindles.  The customer's requirement is to drill 0.201″ diameter holes on 1.125″ centers.
---
The 8 Drilling Heads were mounted to Hypneumat DQ46 Auto Feed Units. This is one of the 24 spindle heads.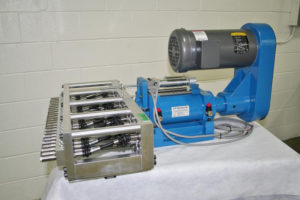 ---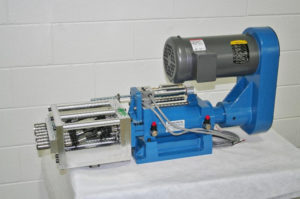 Above is an 8 Spindle Head mounted to a DQ46 Auto Feed Unit.
---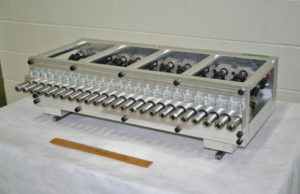 Each Multi-Spindle Head was fitted with THK Guide Rails for smooth operation.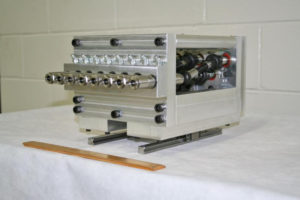 ---
To automate your drilling and tapping needs, do not hesitate to call Hypneumat, Inc.  414-423-7400 or visit www.hypneumat.com
About Hypneumat
In 1942 Earl Putrow, a self-taught inventor living in Northern Wisconsin, was selling motors, belts, pulleys and tooling gadgets through his garage-based company, Putrow Industrial Supply. Earl would display his wares at all key trade shows. At these shows, he would bring along a showpiece item he dubbed "The Hypneumat". The Hypneumat was cleverly coined from three existing words: hydraulic, pneumatic and automatic. Over the years, the accuracy and durability of the units have been improved, and the same sturdy, simple design of Earl Putrow's original Hypneumat is found at the heart of the more than a dozen basic designs and countless customizations available.
Hypneumat takes pride in the well-trained craftsmen and journeymen machinists who work at Hypneumat. Personal pride and integrity are part of every operation, from order taking to shipping.
For more information, visit www.hypneumat.com