New Strong Grip® Combo Tip Pliers Provide Tight Spot + No-Mar Clamping Pressure!
Strong Hand Tools®, manufacturer of innovative Strong Hand Tools® Welding Clamps, Magnets, Pliers and BuildPro® Welding Tables, is proud to introduce the New Strong Grip® Combo Tip Pliers!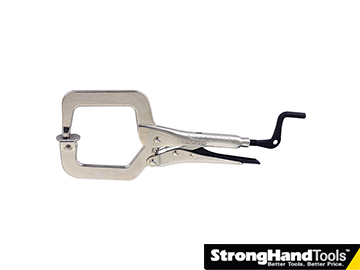 Strong Grip® Combo Tip Pliers have one round tip [top jaw] for direct, firm clamping pressure in tight spaces, and one swivel pad [bottom jaw] for a wider contact surface area that won't dent delicate workpieces.
Wide jaws provide workpiece clearance, with a holding capacity of 2.8" – 5". [Three models to choose from] Hold square, flat, or angled workpieces.
Strong Grip® Pliers are the easiest to Grip, Adjust, and Release! Designed and built for comfort, convenience, and fast operation, the Strong Grip® Pliers feature a unique crank handle for fast, easy jaw opening, and pressure adjustment, even from the locked position. The easy-reach, smooth release trigger quickly unlocks the Pliers with one hand, and won't pinch fingers. Deep grip marks on the top and bottom handles provide positive gripping power. The secure adjustment bar minimizes those aggravating, time-wasting bar pop-outs.
About Strong Hand Tools
We're on a mission to make "Better Tools at Better Prices." For over 30 years we have communicated with welders and craftsmen to develop innovative, quick-acting clamping tools that allow you to create a "proper" setup as the foundation for safe, and efficient work in welding, assembly, and repair applications. We've re-engineered traditional tools such as: Sliding Arm Clamps, Welding Magnetic Squares, Pliers, and Vises for improved performance in clamping and fixturing.
For more information on the BuildPro® Tool Cart, visit us online at www.stronghandtools.com.