New BuildPro® Tool Cart Keeps Modular Fixturing Clamps and Components Within Reach for Fast Fixture Setup and Tear Down!
Strong Hand Tools®, manufacturer of innovative BuildPro® Modular Welding Tables and Strong Hand Tools® All Purpose Clamps, Magnets, and Pliers proudly announces the debut of the NEW BuildPro® Tool Cart. The BuildPro® Tool Cart is the ideal way to organize, inventory, and keep the clamps and components in the BuildPro® Modular Fixturing Kits within easy reach for faster fixture setup and tear down.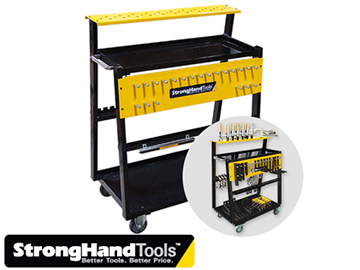 Dedicated placement for each clamp and component makes the cart easy to setup and maintain. A large front pegboard panel stores frequently used Straight Edge Stops. A "bridge" channel beneath the pegboard is the ideal width to store multiple Ball Lock Bolts, an essential component in fixturing. The bottom shelf holds bulky items such as Heavy Duty Riser Blocks. Swiveling casters with foot pedal safety lock provide easy maneuverability.
BuildPro® Modular Welding Tables feature CNC machined holes + plates for the setup of modular fixtures for each new project. BuildPro® Modular Welding Tables are available worldwide, and are sold through a network of over 900 Distributors.
About Strong Hand Tools
We're on a mission to make "Better Tools at Better Prices." For over 30 years we have communicated with welders and craftsmen to develop innovative, quick-acting clamping tools that allow you to create a "proper" setup as the foundation for safe, and efficient work in welding, assembly, and repair applications. We've re-engineered traditional tools such as: Sliding Arm Clamps, Welding Magnetic Squares, Pliers, and Vises for improved performance in clamping and fixturing.
For more information on the BuildPro® Tool Cart, visit us online at www.stronghandtools.com.