Jergens Adds OK-VISE Low-Profile Clamping Systems To Its Range Of Workholding Solutions
Jergens, Inc. announces the addition of OK-VISE clamping systems to its range of workholding solutions. At the heart of the product offering is a unique, patented wedge-operated, low-profile clamp that provides uniform pressure via a single hex screw. OK-VISE components can be used to build both general-purpose and dedicated fixturing and work in conjunction with other Jergens workholding platforms.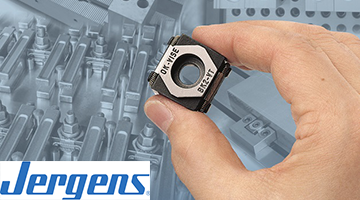 A systems approach provides all the basic elements needed for flexible fixturing. Among the components are Multi-Rail and Combo-Rail units, to which multiple clamps can be attached to accommodate numerous parts in a single set-up. The rail system can be modified per the need of the parts to be machined. Additionally, the OK-VISE line offers grid fixturing and blank fixturing for custom workholding needs.
The clamps are available with several jaw styles including serrated, smooth, machinable and adjustable.  Single-wedge and double-wedge, pull down styles and a simplified economy version of the clamp round out the offering.
Best known as the original inventor and manufacturer of wedge-operated low-profile clamps, OK-VISE is a well-respected international brand with manufacturing in Muurame, Finland. The partnership between Jergens and OK-VISE is founded on a mutual approach to workholding innovations. "We have a high level of confidence in Jergens, especially as an international leader in workholding solutions", says Olavi Meriläinen, Managing Director of OK-VISE Inc.
For more information on the complete line of workholding solutions, contact Jergens at 15700 S. Waterloo Road, Cleveland, OH 44110-3898. Phone: 877-486-1454; Fax: 216-481-6193; e-mail: info@jergensinc.com; or visit on the web at www.jergensinc.com. Founded in 1942, Jergens, Inc. is an ISO 9001:2008 certified company committed to helping its customers achieve leaner, more profitable manufacturing, and continues to add products and engineered solutions for an integrated approach to "Manufacturing Efficiency".