VAC-U-MAX To Exhibit Bulk Material Handling Solutions and Industrial Vacuum Cleaning Systems at International Powder & Bulk Solids Expo, May 3-5,
Donald E. Stephens Convention Center, Rosemont, IL, Booth 1621
VAC-U-MAX proudly announces exhibition at International Powder & Bulk Solids Expo 2016, May 3-5, Donald E. Stephens Convention Center, Rosemont, IL, Booth 1621, presenting process automation and industrial vacuum cleaning systems and solutions for handling over 10,000 various powders and bulk ingredients in the food, pharmaceutical, nutraceutical, pet food, dairy, chemical and petrochemical industries.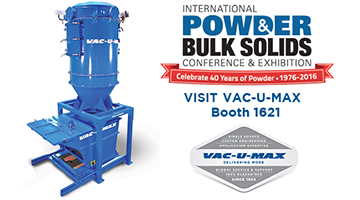 Equipment on display includes standard and sanitary loaders and receivers for batch and continuous operation in addition to bulk bag unloading systems. A leader in bulk ingredient transfer, VAC-U-MAX systems are  engineered for the application, incorporating strong application expertise in dilute or dense phase vacuum conveying, dilute or dense phase positive pressure conveying, multi-ingredient handling, mechanical conveying, and batch weighing. Additionally, VAC-U-MAX will feature NFPA-compliant continuous-duty industrial vacuum cleaning equipment for fine powders and combustible dusts, with industrial vacuums featuring continuous bagging options that eliminate fugitive dust clouds or operator exposure to dusts.
REGISTER FOR A COMPLIMENTARY EXPO PASS:
Please visit www.vac-u-max.com/PowderShow
Continuous Bulk Material Handling Systems
Designed to convey powders, pellets, flakes, granular materials or any difficult conveying powders, VAC-U-MAX systems offer continuous conveying for many applications including hopper loading, loss-in-weight feeder refill, blender loading, batch weighing, tablet press loading, loading filling and packaging machines, or any application that requires a high level sanitary design, frequent cleaning, or material-from-air separation. All VAC-U-MAX components function as a single system for continuous operation, creating cost savings, plant operation efficiency, and increased throughput. VAC-U-MAX application expertise also includes batch weighing systems and multi-ingredient handling systems, where bulk ingredients are weighed at the pick-up-point for loss-in-weight transfer or at the end of the system for gain-in-weight transfer.
Sanitary Powder-Handling Receivers for Food, Dairy, Pharma and Nutraceutical Applications
VAC-U-MAX sanitary receivers offer the most versatile solution for the handling of free and non-free flowing powders and other bulk materials. Many configurations, finishes, and discharge valve types are available, dependent on conveying applications including batch weighing, loading tablet press machines, mix tanks, blenders, hopper loading, and loss-in-weight feeder refill. All food and pharmaceutical equipment is constructed from 316L Stainless Steel and USDA accepted, with convey rates ranging from 500 pounds (227 kg) per hour to 5,000 pounds (2,268 kg) per hour and beyond.
Bulk Bag Loading / Unloading System
VAC-U-MAX Bulk Bag Discharger for pneumatic conveying systems. The Bulk Bag Unloader provides a clean, and efficient way to discharge the entire contents of a bulk bag and is specifically designed for semi to non-free flowing powders. VAC-U-MAX Bulk Bag Dischargers use our proprietary pneumatically operated massage paddles, operator access door for a complete sealed system, dust collection port, heavy duty tubular frame, motorized hoist and trolley, and screw discharger for controlled metering of powders into the convey line or process.
NFPA-Compliant Industrial Vacuum Cleaning Systems
VAC-U-MAX product line includes a full range of portable and central industrial vacuum cleaning units and systems, engineered for specific applications that address issues like worker exposure to dusts, chemical compatibility, flammability, and combustibility. An expert at combustible dust handling, VAC-U-MAX industrial vacuum cleaning systems are available for a wide range of applications. Models on display include:
Model 850: Continuous-Bagging Vacuum Cleaning System for Fine Powders
The VAC-U-MAX Model 850 Industrial Vacuum Cleaner is designed to reduce operator exposure to fine powders and dusts, improving material handling of dusty debris. This continuous-duty vacuum is equipped with a continuous bagging system that eliminates dumping of a drum or rigid collection container. Closed bags prevent dust clouds, with unit containing a unique filter cleaning system that eliminates the need for compressed air and solenoid controls.
Model 40012: Air-Powered Vacuum Cleaner for Fine Powders
Vacuum cleaner features pulse-jet filter cleaning system for Class II, Division 2 environments. The 55-gallon air-powered unit is completely grounded and bonded, meeting NFPA 70 requirements. VAC-U-MAX air-powered vacuums do not use electricity and do not generate heat, meeting the definition of an "intrinsically safe system".
Model 1020: Continuous-Duty Industrial Vacuum for High Volume Recovery
Unit features a powerful positive displacement pump designed for high volume recovery (up to 6 tons per hour), with continuous-duty vacuum production easily meeting even the toughest recovery challenges. Vacuum is very powerful yet portable, making it a versatile tool that can be used anywhere. Large rubber tires and unidirectional castor wheel make the 1020 easily maneuvered by a single operator. Noise levels are below OSHA standard.
Model 1040: Central Vacuum Cleaning System for Use by Up to 3 Operators
Compact central industrial vacuum cleaning system engineered for 100% more suction power. System supports use by up to 3 operators at one time. Flexible design optimized for indoor installation, longer vacuuming times and filter life. Unit is available in 10HP or 15HP, and features a quiet positive displacement pump with pulse filter cleaning and HEPA filtration. The plug-and-play design offers full UL-Certified control panel.
REGISTER FOR A COMPLIMENTARY EXPO PASS:
Please visit www.vac-u-max.com/PowderShow
About VAC-U-MAX:
VAC-U-MAX is a global leader in the design and manufacture of pneumatic conveying components and fully automated systems for vacuum conveying, batching, and weighing of powders and bulk materials in the food, pharmaceutical, chemical and petrochemical industries. The primary technology for conveying is vacuum, however VAC-U-MAX also specializes in positive pressure systems as well as flexible screw and aero-mechanical conveying. Product range also includes a full line of portable and central industrial vacuum cleaning systems for high volume recovery of various bulk materials, dusty powders, liquids, sludge, and combustible dusts. For more information visit www.vac-u-max.com or email info@vac-u-max.com.  
VAC-U-MAX Material Test Lab
With experience testing thousands of powder and bulk materials, the VAC-U-MAX material test lab is fully equipped to meet customer demands, allowing the ability to set up any system, saving process time and money.