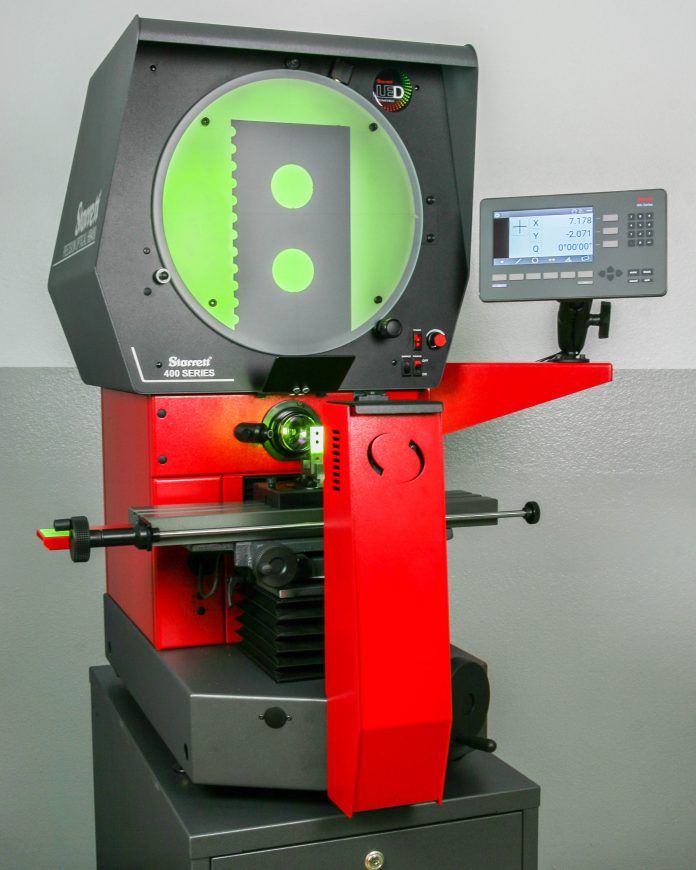 The L.S. Starrett Company, a global manufacturer of precision hand tools and gages, metrology systems and more, has recently expanded the Horizontal X-Axis Travel on its HB400 Benchtop Optical Comparator from 12″ to 16″ (300mm to 400mm), providing users the versatility to measure larger parts on its workstage.
Available with optical edge detection, the HB400 Benchtop model is a workhorse of the broad line of Starrett Comparators, providing performance levels previously only available with floor standing machines. "Customers will surely welcome this enhancement, as the HB400 now has the longest standard X-Axis travel of its comparator class in the industry," said Mark Arenal, General Manager, Starrett Kinemetric Engineering, Inc.
The Starrett HB400 Optical Comparator features a large 16″ (400mm) diameter viewing screen, the new 16″ (400mm) horizontal travel, a 6″ (150mm) Y vertical travel, a 2″ (50mm) focus travel and a 110 lb. (49.9 kg) workstage load capacity. The HB400 also has rugged all-metal construction with a hard-anodized stage tooling plate, LED profile and surface lighting rated to 50,000 hours, and touch-screen operation. Featuring a linear encoder glass scale on both X and Y-axes and digital protractor for angle measurement of 1′ resolution via Q-axis readout, the HB400 is exceptionally accurate and reliable.
The Starrett HB400 has a single bayonet style lens mounting system that accepts a choice of six fixed interchangeable lenses, as well as OV2 Zoom or TOV2 fixed telecentric magnification video camera systems. The HB400 is available with MetLogix M1 tablet, M2 or M3 measuring software (when using OV2 and TOV2) PC, or digital readout systems. Click here for more information on the HB400.
About The L.S. Starrett Company
Founded in 1880 and headquartered in Athol, MA U.S.A., The L.S. Starrett Company is a leading global manufacturer of precision measuring tools and gages, optical comparators and vision systems and force and hardness testing solutions. Starrett also manufactures laser measurement systems, custom engineered granite solutions, custom gaging, band saw blades, power tool accessory saw blades, workshop tools and jobsite tools. The Starrett brand is recognized throughout the world for exceptional quality and precision. Skilled personnel, superior products, manufacturing expertise, innovation and excellent service and support have earned Starrett its reputation as the "World's Greatest Toolmakers". Starrett has over 1,600 employees worldwide and annual sales exceeding $200 million. The company has six manufacturing locations in the U.S.A., including facilities in Massachusetts, North Carolina, Georgia, Ohio, Minnesota and California. Starrett also has three international manufacturing facilities. Plants are located in Brazil, Scotland and China, in addition to distribution centers and offices located worldwide. The L.S. Starrett Company is publicly traded on the NYSE, symbol SCX.
Contact
Mark Arenal
P: (949) 348-1213