New BZN Series for Hard Part Turning

Sandvik Hyperion's BZN V-Series PCBN grades are designed to provide versatility in 3 key aspects of machining of hardened ferrous materials. First, the grades are able to work in case hardened, bearing steels, powder metal alloy steels, and tool steels. Second, they can be applied in applications such as turning, milling, and reaming. Third, a wide range of components can be machines such as gears, shafts, bearings, CV joint components, valve seat components, and die/mould components. The BZN V-Series provides enhanced wear and fracture resistance, performance repeatability and uniform layer thickness.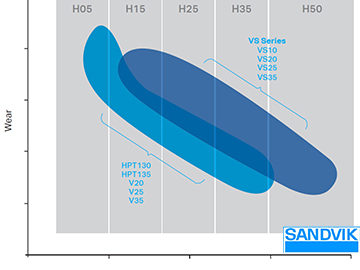 The new BZN VS-Series of PCBN grades is being launched at IMTS as a complement to the BZN V-Series and will offer significantly improved toughness while maintaining superior crater and abrasion resistance properties. The BZN VS-Series is made of solid PCBN thus providing flexibility in tool design and geometry while also eliminating the coefficient of thermal expansion mismatch often seen in carbide supported grades. These grades are ideal for machining of hardened ferrous materials and applications.
Sandvik Hyperion
Sandvik Hyperion is a global solution provider of effective applications for hard and super-hard materials, which include cemented carbide, diamond and cubic boron nitride.