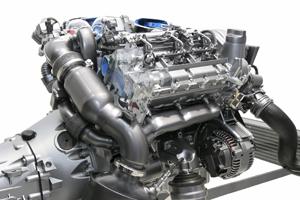 SAKOR Technologies Inc., a recognized leader in the area of high-performance dynamometer systems, announces that it will be exhibiting at the Automotive Testing Expo North America October 24-26, 2023 at the Suburban Collection Showplace in Novi, Michigan.
SAKOR will be highlighting many of its innovative technologies at Booth #9020, including hybrid and electric vehicle testing, high voltage battery testing and simulation, and the smallest AC regenerative engine dynamometer available in the industry. SAKOR technical experts will be on hand at the booth to offer expertise and answer questions about their products.
SAKOR is excited to highlight its new DynoLAB™ GenV next generation test automation controller, which allows even a non-programmer to implement complex test systems and testing standards. Delivering a new benchmark in modularity, performance, robustness, and expandability, DynoLAB GenV is built on the latest Windows technologies and development tools in full compliance with current information technology standards
The DynoLAB™ Test Cell Control System being highlighted can perform a wide variety of road load profiles and simulations, and is designed for testing to all international standards, including existing and proposed EPA, CARB, and Euro standards.
The High Voltage Battery Simulator/Testing System is ideal for customers conducting research and development, performance evaluation, and durability testing of high voltage DC power systems. It can be used for testing high voltage batteries as well as simulating high voltage batteries while testing hybrid and electric vehicle drive lines and inverter systems. The High Voltage Battery Test System is fully line regenerative, resulting in a very power efficient unit, minimizing electricity usage, lowering operating costs, and providing an extremely environmentally friendly "green" profile.
About SAKOR Technologies, Inc.
SAKOR Technologies, Inc. is a recognized leader in the manufacture and development of reliable and cost-effective automated test instrumentation systems for a wide range of applications. For over 35 years, the company has been providing quality products and superior customer service to a variety of markets including automotive, hybrid and electric vehicle, military, aerospace, marine, heavy equipment, performance racing, electric motor, consumer appliance and more.
SUBSCRIBE to our Complimentary Publications: