NOARK Electric Releases EX9S32 Manual Motor Starter
New Manual Motor Starter provides manual isolation, manual motor control and overcurrent protection in one unit.
NOARK Electric, a leading low-voltage electrical product manufacturer, released an all new Manual Motor Starter – the Ex9S32.
The Ex9S32 Manual Motor Starter is designed to handle more amps and more accessories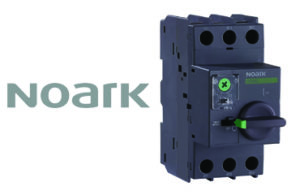 than previous models offered, while providing increased electrical and mechanical life. The Ex9S32 Manual Motor Starters are electro-mechanical devices that combine a number of functions in one unit, including disconnect for motor branch circuit, manual motor control, branch-circuit short circuit protection (magnetic protection), overload protection (thermal protection – Trip class 10) and switching (manual).
The Ex9S32 is available with up to 32A @600 Vac, UL 508 Type E self-protected combination motor controller (Type F coming soon) and built-in fault indication. The unit also offers a full-range of accessories including undervoltage release contacts, shunt release contacts, power connection adapters, extended rotary lockable handle, and waterproof enclosure.
NOARK Electric (North America), located in Pomona, CA, is a global electrical component and intelligent control system supplier. The company is establishing a representative and distribution network to serve its primary markets, which include the building trades and electric panel board builders in various industries. As a global supplier, NOARK currently operates four R&D centers, three distribution centers, 15 office locations and employs over 1,000 associates. Sales currently exceed $2 billion worldwide.
For more information on this product, consult your local sales representative found at www.na.noark-electric.com or email: nasales@noark-electric.com. Distributor inquiries invited.