Palmgren's 2-Speed Combination Belt & Disc Finishing Machine For Nearly All Finishing Operations
Designed to do more, the 2-Speed Combination Belt & Disc Finishing Machines from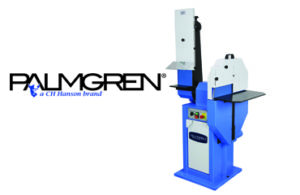 Palmgren can handle nearly every finishing operation. Equipped with  value-added features, these machines deliver superior performance with serious results. The machines grind, sand, chamfer, deburr and finish materials efficiently and accurately.
The belt feature is mounted directly to an oversized motor shaft for maximum power and efficiency. It comes with a steel back up platen, a lower drive drum that is ribbed 60 duro rubber coated for optimized belt traction and a belt head that adjusts vertically, horizontally and to any position in-between. The disc section is mounted directly to an oversized motor shaft for added power.
The Palmgren 8 x 24 Two-Speed Combination Belt & Disc Finishing Machine, #9682414, features a safety electrical system, 2-speed hi/low drum switch, on/off push button power switch with keyed lock-out, emergency stop button with an electronic brake 24 volts at all switches and a 3-inch dust collection ports. Its heavy-duty steel floor stand with hinged door has an internal storage area and anti-vibration foot pads.
For more information, call 800-827-3398 or visit www.palmgren.com. Palmgren is a C.H. Hanson brand.
About Palmgren
Since 1919 Palmgren products have proven their reliability, efficiency and durability in over 95 years of use by all types of industry throughout the world. Clarence Palmgren was acclaimed for his achievements and contributions to the metal working industry through his innovative designs and patents.  He is credited with the design and manufacture of the first machine vises, cross slide and rotary tables that significantly increased efficiency and productivity with metalworking manufacturer's worldwide. This created the foundation of innovation and quality that the Palmgren brand is built upon and follows today. So it is no surprise that Palmgren continues to be a market leader not only with our vises and positioning tables but across our whole expanded metalworking product offering. Palmgren today delivers tools for the generations and solutions that solve the needs of the metal working industry. Recognizing the value of the brand and the need for supplier consolidation by retailers, CH Hanson acquired Palmgren Steel Products in October 2013.
For more information visit www.palmgren.com.