Huth Releases Work Solution for Painless Tubing Expansions with 1674V
Due to increasing customer demand for ways to work on larger diameter tubing more easily, Huth Ben Pearson introduces solution to make large expansions painless! The new 1674V has an expansion range of 1½" to 12", to make expansions as easy as possible.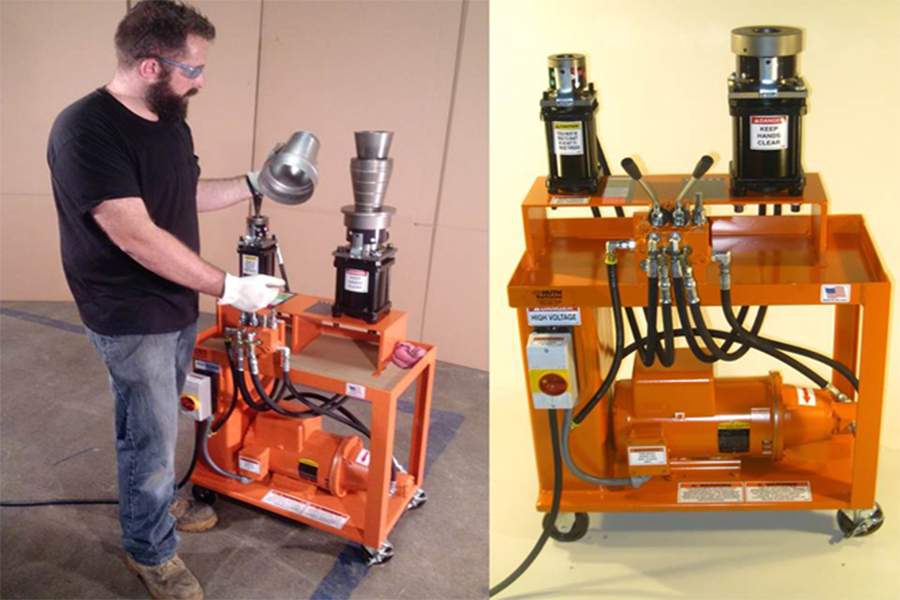 Mounted on its own easy wheeling cart, Huth's Model 1674 V portable expander/end forming machine equips you to use all existing Huth segmented expand­ing and end forming  tooling. With a Dual cylinder head design, the powerful 5″ cylin­der allows you to expand tubing from 3″ up to, 6″ diameter, 3″ deep with our standard tooling and even larger diameters with custom tooling. The smaller 3 inch cylinder handles 3 inch sizes and under for expanding and end forming operations.
Other features include a powerful 5 HP motor, single-phase (30 amp), or 3-phase (20 amp) 220 volt, 60 Hz supply. 50 Hz and other voltages available. The 3-1/2" cylinder produces 25,000 lbs. of expanding power and the 5″ cylinder produces 49,000 lbs. of expanding power. Expanding capacity ranges from 1″ to 6″ and greater with custom tooling. The model also features Huth's Accu-SizerTM automatic, preset expanding system for quick, precise expanding each and every time. Designed with Front swivel caster w/brake and 15′ power cord with male and female receptacles. Included are the 41047 Accu-Sizer adjustable collar for the 3-1/2″ cylinder, and the 527 adjustable collar with the 528 collar extension for the 5″ cylinder.
In addition, there is a new, larger oil tank. The 4 gallon capacity lets you work harder and longer by running cool throughout production.
Tooling is sold separately and expander tooling through 6 " is readily available from stock. The 1674V can expand to 12" with appropriate custom tooling. We can create custom tooling for nearly any end forming application, and a broad range of expansions and end form shapes.
Visit Huth at FABTECH 2016 in Booth N7308!
About Huth Ben Pearson
With Huth, we strive to give you flexible, creative, affordable end forming and tube connecting, so you can expand your customer satisfaction along with your bottom line!
We know there is a lot of demand for working on larger diameter tubing. We will keep working to make useful tools and methods to help fabricators and shops doing this work. We would love to discuss your project!
For more information, visit www.huthbenders.com.