The original MC4 connector from Multi-Contact, the most popular connector in the world, recently received UL approval for 1500 volts. In addition to its existing global approvals such as TÜV, CSA, and CQC, the market leader for DC connectors in the PV sector has therefore been able to increase usage from 1000 to 1500 volts in UL-relevant countries. This is good news, especially for installers of utility-scale systems, particularly in the American market.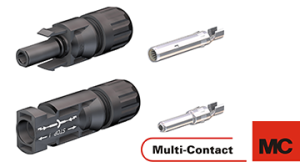 There are clear advantages to the increased system voltage. More modules can be connected in series within a string, which reduces the balance-of-system (BoS) costs. This cuts the number of strings within an array and the need for BoS components such as couplings, overcurrent safety switch systems, contact breakers, and cables. Furthermore, inverters are cheaper in this voltage range. Overall, this reduces installation costs by up to 30%.
Systems with high system voltage also score well when it comes to operation. As there is less electrical loss in the strings and the inverters work more effectively at 1500 volts, the yield from these systems is increased in the long term. Sascha Schmidt, PV Product Manager at Multi-Contact, is pleased with the news: "The approval process took around six months, and our MC4 connector passed with flying colors without us having to change a single detail." This is important for all module manufacturers, installers, service companies, and plant builders who have stocks of the popular connector. As of now, they can use them in UL-certified systems with 1500-volt string voltage. Of course, existing systems can also be upgraded to 1500 volts if they are already cabled with MC4 connectors.
Over a billion connectors from the Multi-Contact Solarline range have been providing reliable connections all over the world since 1996. This represents a PV output of over 110 GW. Its excellent characteristics have made the MC4 the "de facto standard" for connectors throughout the world for over 12 years. The heart of every connection is the tried and tested stable MULTILAM technology, which guarantees consistently low performance loss throughout the service life of the connector. The MC4 meets the requirements for the IP65 and IP68 degrees of protection and is approved for use within a temperature range of –40°C to +85°C (IEC and UL). The impact-resistant polycarbonate housing can withstand UV radiation, salt spray, and ammonia vapors.
The manufacturer offers Swiss-quality preassembled cable sets to meet customer specifications for all connectors. The MC4 crimping pliers developed specially for the range of connectors also allow the connectors to be assembled on site with cables of up to 10 mm². At this cable cross section, the MC4 can cope with up to 43 amperes. There is a snap-in lock that meets UL and NEC requirements to ensure mechanical and functional safety. An optional safety lock clip guarantees increased safety in the field.
About Multi-Contact AG
Multi-Contact is a leading international manufacturer of electrical contacts and connection systems for industrial applications.
Multi-Contact develops, produces, sells, and manages products for markets with very high standards of productivity on the foundation of the unique and patented MULTILAM contact technology. The product portfolio ranges from miniature connectors up to high-power connectors for the transmission of several thousand amperes. The connectors are used in various fields of application such as railway and transport technology, the automotive industry, seafaring and aeronautics, industrial technology, telecommunications, automation and robotics, power transmission and distribution, mechanical engineering, measurement, testing and control technology, electronics, research and development as well as defense technology. With their photovoltaic cabling systems, Multi-Contact is global market leader.
Technological progress continuously brings forth new applications requiring innovative solutions. This is why Multi-Contact specializes in developing and producing custom solutions on a high technical level.
Research and development as well as part of the production are located in Allschwil near Basel, Switzerland. Furthermore, Multi-Contact is represented by production and business units in Europe, the Americas and Asia. Multi-Contact's Quality and Environmental Management is certified according to ISO 14001:2004 and ISO 9001:2008.
Multi-Contact was founded in Switzerland in 1962. The invention of the patented MULTILAM Technology set new standards in the field of electrical contacts and became the foundation of the company's global success. It is the core of all of Multi-Contact's products, allowing for highly efficient energy transmission and a long lifetime.
Since 2002, Multi-Contact has been part of the Stäubli Group. Stäubli provides innovative mechatronics solutions in four dedicated divisions: Electrical Connectors, Fluid Connectors, Robotics and Textile. With a global workforce of over 4,500 employees, the Group has a presence spanning 25 countries, and a network of agents in over 50 countries.