NETZSCH Pumps North America, LLC, experts in solutions designed specifically for difficult pumping applications, is introducing a new FSIP (full service-in-place) version of its industry-leading NEMO® progressive cavity pump. Ideal for wear-intensive applications, the maintenance-friendly FSIP™ design has been re-engineered to provide full access to all the pumps' rotating parts.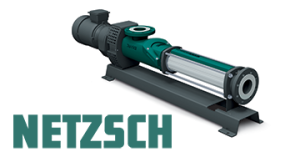 Users can conveniently open the in-service pump housing, dismantle all rotating parts, and simply install them again without having to disconnect the pump from the piping or having to remove the motor. The NEMO's rotor-stator unit can be lifted out after opening the newly designed inspection cover on the pump housing – without the need for any special tools. This significantly reduces installation and maintenance time.
The NEMO pump with FSIP design is fully compatible with the existing NEMO pump BY series.
With the new FSIP pump, all wearing parts – from flange to flange – can easily be replaced when opening the pump. Because the rotor-stator unit can be removed either sideways or from above, service time is minimized and very convenient. In addition, the pump's installation footprint has been reduced for both conventional stators and the newer iFD-Stator® 2.0.
NEMO progressive cavity pumps are known for their continuous, pressure-stable, gentle and low-pulsation conveyance of almost any process fluid without being affected by fluctuations in pressure and viscosity. The pump is available in eleven styles with four rotor/stator geometries and a selection of engineered joints that can be tailored to suit specific applications. Conveyance volumes can be configured in proportion to rotation speed, with high dosing precision over the entire rotational-speed range.
For more information contact:
Kristin Nugent
McNeil, Gray & Rice Inc.
(617) 367-0100, ext.148
Kristin.nugent@mgr1.com
About NETZSCH Pumps & Systems
NETZSCH Pumps & Systems has served markets worldwide for more than 60 years, providing customized, sophisticated solutions for applications in every industry type. Experts in solutions designed specifically for difficult pumping applications, NETZSCH supplies NEMO® progressive cavity pumps, TORNADO® rotary lobe pumps, and NOTOS™ multi screw pumps, as well as grinding machines, barrel emptying units, dosing technology and accessories. With a workforce of more than 2,000, NETZSCH Pumps & Systems is the largest business unit in the NETZSCH Group, with annual sales of more than 250 million Euros during the 2015 fiscal year.