EXSYS Spotlights Innovations in LEHMANN and EPPINGER Lines at MMTS
EXSYS Tool Inc. will demonstrate two productivity-enhancing innovations as well as showcase its industry-leading PRECI-FLEX®tooling system at this year's Montreal Manufacturing Technology Show. A pL LEHMANN ultra-high precision 5-axis rotary table and the new EPPINGER COMPACTO™tooling base holder will both take center stage in booth 558 at the Place Bonaventure in Montreal, Canada, May 16-18.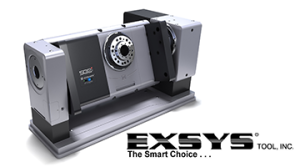 To simulate real-world application, EXSYS will display the pL LEHMANN rotary table's 5th axis cantilever setup and rotary face plate under power. Attendees will experience the system's full 4th axis with Face Plate and 5th-axis functionality as well as its movement within a machine tool work envelope. The 5th-axis table operates in simultaneous machining or productivity-enhancing 3+2 positioning modes.
All pL LEHMANN tables consume a minimum of space in the machine work envelope, facilitating optimal tool access to the workpiece. Despite their space-saving dimensions, the tables and spindles offer strong resistance to pull-out torque and axial force while providing high levels of clamping torque. Engineered for low power consumption and light weight, the tables feature IP67 rated enclosures. The line also offers the industry's most extensive selection of work holding interface options on the market today.
Both single-spindle and multi-spindle pL LEHMANN tables are available in 4th-axis and 4th/5th-axis versions. Swiveling-bridge-style 4-axis tables employ the roto-FIX clamping yoke for machining of multiple parts. The tables' backlash-free preloaded gear drives (PGD) provide both high torque and high rotation speeds, with spindles capable of 47-111 rpm and cycle times for 90 degrees of 0.34 sec.
The Swiss-manufactured pL LEHMANN rotary tables allow users to upgrade a vertical machining center's productivity without incurring the expense of a new machine. The tables are available in four basic models that can be assembled into as many as 240 different configurations. More than 20 different available clamping methods and behind-the-spindle accessories further extend the system's adaptability.
As one of the latest additions to the EPPINGER line, the EXSYS COMPACTO base holder delivers speed and accuracy to significantly reduce setup and tool change times for most CNC turning centers. It is available in C3, C4, C5 and C6 sizes and suitable for all standard PSC adapters and features what provider EXSYS deems to be the industry's shortest PSC interface.
When compared with traditional base holders, the COMPACTO brings more space and clearance to large part production. It also offers improved torque transmission and rigidity for increased tool accuracy. Plus, its cone-style shape interface further adds to the base holder's high precision and stiffness.
A special built-in release mechanism on the outer diameter of the COMPACTO's spindle provides optimal operator accessibility. A small Allen key quickly locks and unlocks the adapters for virtually effortless tool changes. And, the automatic ejection of the adapters further increases the speed and efficiency of tool exchanges.
Available for bolt-on and VDI-style turrets, the COMPACTO accommodates fixed and rotary tools, including the EXSYS/EPPINGER PRECI-FLEX system. In fact, adapters used in milling applications also work in turning operations, due to the versatility of the product.
PRECI-FLEX toolholders offer a fast, accurate and cost-effective solution for turning machine tooling changeovers. The modular system is the first tooling system on the market with a single base holder and multiple tooling adapters that use the ER collet pocket. The system's conical and flat face planar interface allows the use of either an adapter or a standard ER collet, and enables collets, endmill holders, expanding collet chucks and shrink fit tooling to be mounted on a single base holder.
Available in a range of sizes, PRECI-FLEX provides unsurpassed productivity and reliability, with every toolholder offering repeatability within five microns. The system also virtually eliminates machine downtime, and allows tooling adapters to be interchanged between fixed and rotary base holders for fast, economical machining.
About EXSYS Tool, Inc.
Founded in 1987, EXSYS Tool, Inc. is the exclusive importer of German-made EPPINGER solutions, including high-precision live and fixed toolholders for CNC turning centers, modular adapter systems for quick lathe tooling changeovers and gear box solutions for a wide range of applications. With headquarters near Tampa, Fla., and support offices in California, Canada and Mexico; EXSYS offers a variety of different types of tool holders, gold standard tooling repair and applications expertise to manufacturers throughout North America. For moreinformation, please contact EXSYS Tool, Inc. at info@exsys-tool.com or visit www.exsys-tool.com.