EXSYS Tool Inc., the exclusive North America supplier of pL LEHMANN rotary tables, has expanded its offering of ultra-high precision products to include the pL LEHMANN swissClamp modular clamping system. This new system allows operators to mount multiple workpieces on machine tool tables for uninterrupted production and unmanned operations.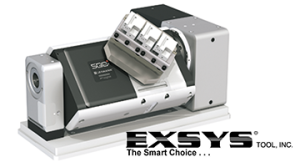 For use with rotary and standard tables on vertical or horizontal milling machines, the Swiss-manufactured swissClamp modules mount on face plates or directly on worktables. The system extends a shop's potential part-clamping range from 90mm to 200 mm – a 40 percent increase in work piece capacity within the same clamping length.
swissClamp's four basic modules enable more than 240 possible configurations, including both mono clamping, requiring only one basic body, and duo clamping, where two mono clamps are mounted opposite one another. Configuration options include creating a clamping tower/tombstone on a fourth axis, a horizontal clamping cone that is overhung or with counter bearing, or a clamping bridge on a trunnion table set up where both sides require a different design with mono and duo systems. Operators can also create clamping modules on the fourth or fifth axis.
Ideal for a variety of mass production applications in automotive, aerospace, medical/dental and micro technology industries, swissClamp is suitable for either strong gripping or light finish clamping applications. For strong gripping, the system achieves rigid, pull down clamping to depths of 3 mm or 6 mm via a mechanical grid on its jaws. When used for finish clamping, swissClamp's finish jaws achieve non-rotating, precise parallel clamping with a clamping stroke of approximately 1 mm that prevents indentations and ensures high surface quality. The system enables finish clamping to a depth of 6 mm.
The swissClamp system is compact with a simple, yet robust design that makes it easy to clean and offers good chip and coolant flow.
About EXSYS Tool, Inc.
Founded in 1987, EXSYS Tool, Inc. is the exclusive importer of German-made EPPINGER solutions, including high-precision live and fixed toolholders for CNCturning centers, modular adapter systems for quick lathe tooling changeovers and gear box solutions for a wide range of applications. With headquarters near Tampa, Fla., and support offices in California, Canada and Mexico; EXSYS offers a variety of different tool holders, gold standard tooling repair and applications expertise to manufacturers throughout North America. For more information, please contact EXSYS Tool, Inc. at info@exsys-tool.com