Greenerd To Showcase Innovative Hydraulic Press Solutions at IMTS 2016
Consult with Greenerd's Hydraulic Experts at Booth # N-6412
Greenerd Press & Machine Company, Inc. announced today they will be exhibiting at IMTS 2016, McCormick Place in Chicago on September 12-17, 2016. In addition to showcasing the company's extensive hydraulic press capabilities, application experts and design engineers from Greenerd will be available to discuss specific user applications and press requirements at Booth # N- 6412.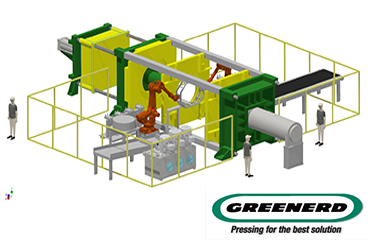 Greenerd will present unique hydraulic press application solutions at IMTS 2016, including a fully automated 750-ton, 49 foot long by 41 foot wide high speed horizontal draw press. Greenerd presses are available in a variety of styles ranging from gap frame and straight-side to die-spotting and forging presses, with product capabilities to 40,000 tons and bed sizes exceeding 240" (6,100mm).
"We are seeing substantial growth acceleration in the automotive, aerospace, appliance and HVAC equipment markets," commented Greenerd Press & Machine Company's CEO, Mr. Jerry Letendre. "To meet the demand in these markets, we are providing fabricating and forming solutions that are flexible, productive and reliable. Our broad range of hydraulic presses, including a standard line along with custom designed presses, is made to meet challenging application needs, and Greenerd is well positioned to meet these demands" said Letendre.
Greenerd has decades of in-house applications engineering experience, successfully designing presses for a broad range of manufacturing applications. Utilizing the latest engineering technologies, Greenerd engineers deliver the safest, most efficient, affordable and reliable machine capabilities.
About Greenerd
Founded in New England in 1883, Greenerd has designed and built thousands of high- quality custom and standard hydraulic presses since 1934. Machines include an extensive line of Hydraulic Presses in all sizes and configurations. A complete line of Arbor Presses is also available. Greenerd Presses are made to withstand the rigors of around-the- clock production and deliver many years of service.
Greenerd Presses are available as standard machines or can be designed for custom applications by expert engineers with extensive application experience.
For more information, visit www.greenerd.com.