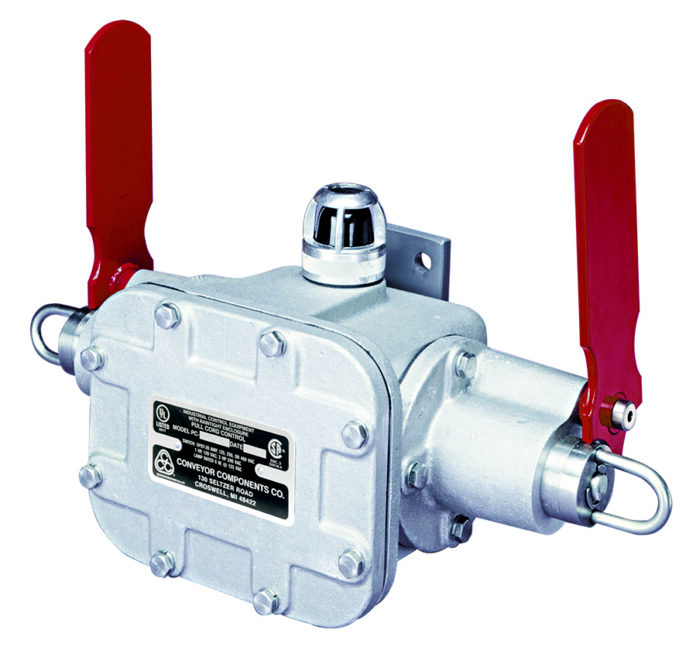 The Model PC pull cord, manufactured by Conveyor Components Company, is a rugged safety stop control that provides a quick positive shut-off of dangerous equipment in emergencies. It is actuated by a cable pulled by endangered personnel. The two microswitch outputs of the Model PC can control up to two separate circuits. These outputs can include one for machinery shutdown and one for alarm. The Model PC was developed to meet the stringent requirements of safety agencies throughout the world. This control is designed to act as an emergency stop for conveyors and other moving machinery.

This standard housing construction is corrosion resistant cast aluminum, with an optional polyester or black epoxy powder coating. Units are left-ended, right-ended, or double-ended. The flag arm must be manually reset after the problem has been corrected. External red indicating light is available as an option.
About Conveyor Components Company
Conveyor Components Company, established in 1965, is world-renowned for quality engineered products at economical prices. We pride ourselves in manufacturing rugged durable equipment for monitoring and cleaning your Conveyor System. Bulk material handling customers and processing industries have come to depend on. The company is a manufacturer of conveyor controls, motion controls, level controls, bin aerators, and conveyor belt cleaners.
SUBSCRIBE to our Complimentary Publications: