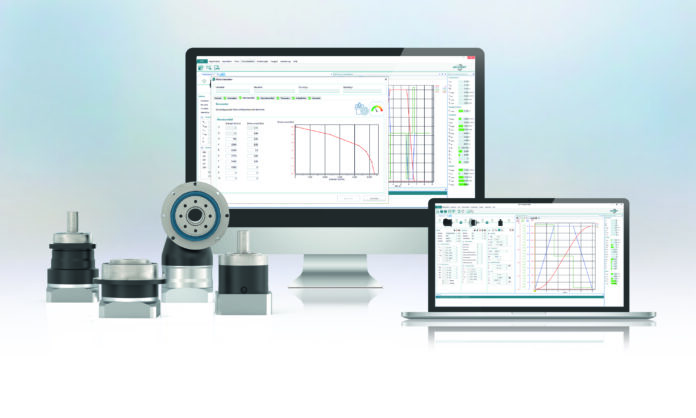 The Neugart Calculation Program (NCP) configuration tool reliably leads to the most cost- and energy-efficient gearbox-motor combination. In the new NCP 4.3 version the performance of the program has been improved further through enhanced multi-core usage of the processor. Above all, effective immediately the proven software will offer many additional features and optimizations – including better comparisons and rack-and-pinion drives.

In order to determine or select the optimum application-specific motor/gearbox combination in each case, designers can calculate complex load curves in the power train using the NCP. The motor design is carried out in a practical manner with graphical evaluation on the basis of the motor's characteristic curves. Thanks to the expanded database, over 18,000 different motors are now available in NCP. Choices include not only servo motors, but also stepper motors. In addition, all Neugart wheels suitable for use with NGV gearboxes are included for traction drive applications in the new version.

Besides the expanded database, the application itself has also been optimized. For example, the comparison between theoretical design and actual data has become even easier. Drop-down menus minimize the effort required to prepare data when importing loads. At the same time, the accuracy of the motor trace load import is even greater than before, because the inertia of the motor and gear losses are now also included in the calculation.

Further enhancements ensure even more reliability in the design. For example, the latest insights have been incorporated into the implementation of the current calculation principles. The static safety factor of the output bearing is included in the calculation results. In addition, the feed rate of rack-and-pinion drives is displayed as a graphical curve.

Greater user convenience
Newly designed details in NCP version 4.3 offer even greater convenience when using the program. New or occasional users in particular benefit from the intuitive usability and will find design examples for each application with detailed descriptions. Handling of projects is facilitated, since the appropriate application and calculations already performed can simply be retrieved directly. By dragging files into the program, the user can easily open files and add designs.

When selecting the gearbox, the user can enter the limit values in the filter more conveniently thanks to additional input fields. Significantly better-performing filters prevent loading pauses when searching for the optimal gearbox. Tighter integration with the Tec Data Finder (TDF) online configurator takes the user directly to the corresponding product configuration within that program.
About Neugart
Neugart is the family business among gearbox manufacturers. Established in 1928, the company has always been run by its owners, who are now in their fourth generation. Neugart develops, manufactures and markets planetary gearboxes and customised gearboxes to customer specifications. The company employs approximately 700 people worldwide, including around 600 at its historic headquarters in Kippenheim in southern Baden.
SUBSCRIBE to our Complimentary Publications: