SUMITOMO INTRODUCES COST-SAVING AC8025P GRADE FOR STEEL TURNING
Sumitomo's new AC8025P Grade for steel turning achieves higher productivity and a longer tool life for significantly reduced machining costs.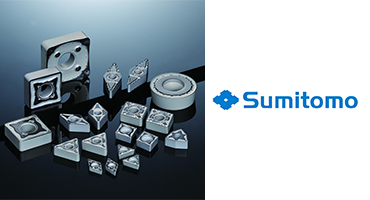 Featuring Sumitomo's own Absotech Platinum CVD Coating, combined with a newly developed tough carbide substrate, the AC8025P provides exceptional cutting edge chipping resistance and adhesion resistance. Significant improvements to the coating adhesion strength control residual stress and provide more than twice the chipping resistance as compared to conventional coatings, while maintaining wear resistance.
A smooth surface treatment greatly improves adhesion resistance along the ridgeline of the cutting edge. When machining low-carbon steel, rolled steel and other materials prone to adhesion, where problems such as peeling or chipping of the coating layer at the cutting edge, deterioration of the surface finish and reduced tool life may occur, the AC8025P increases tool life stability. Excellent edge sharpness greatly reduces chattering.
The AC8025P grade is suitable for a wide variety of steel turning applications, including continuous cutting, light interrupted cutting and interrupted cutting.
For more information, visit IMTS Booth #W-2422 or contact Sumitomo Electric Carbide, Inc., 1001 Business Center Drive, Mount Prospect, IL 60056, Phone: (800) 950-5202, Fax:(847) 635-9335, e-mail: info@sumicarbide.com, or visit the Sumitomo website at www.sumicarbide.com.
About Sumitomo
The Sumitomo business was started in Kyoto, the historic capital city of Japan, nearly 400 years ago by Masatomo Sumitomo (1585-1652) and Riemon Soga (1572-1636).
Masatomo is regarded as the spiritual founder of the Sumitomo Group. Following an early career in the Buddhist priesthood, he established a shop in Kyoto that sold medicines and books. In accordance with the custom of his time, Masatomo produced written teachings for his household and disciples. One volume of these, which provided advice on the conduct of commercial activity, has come to be known as the "Founder's Precepts" and is the basis of code of conduct, still today, for the Sumitomo Group of companies.