Hardness Testers Feature High Accuracy and Deadweight Loads from 10 g to 2 kg
Buehler, Lake Bluff, Ill., introduces two universal hardness testers: the Wilson VH1102 and VH1202, both equipped with the extensively upgraded version of DiaMet software. They offer cost-efficient and reliable solutions for Knoop and Vickers micro-hardness testing in accordance with ISO 6507, 9385, and 4546, or ASTM E384 and E92.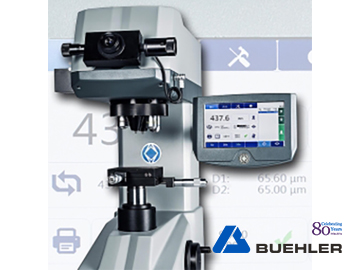 The instruments meet the highest standards in terms of accuracy, and can be used both in quality control and research and development. They feature deadweight loads from 10 g up to 2 kg, and nine different, automatically selectable loading stages. Both models feature an ergonomic, adjustable 7-inch color touchscreen for rapid test method selection and data collection.
The system is highly intuitive and can be operated by less extensively trained staff after a brief period of training. The wide load range with test scales from HV/HK0.01 to HV/HK2 is the same for both models. The usual knob for manual selection of test weights has been replaced by a durable, software-controlled electric motor to automatically change test weights, thereby providing a level of operator convenience that is normally found only on higher-end instruments.
The two models differ with regard to the electrically driven, high-speed, low-noise turret. The VH1102 model is equipped with a turret providing four positions, including an indenter for Knoop or Vickers, and two standard objectives for 10x and 50x magnification at normal working distance.
The VH1202 model is equipped with a six-position turret, including two indenters for both Knoop and Vickers, and an additional objective with 5x magnification at long working distance. For both models, the turret can be set to the magnification selected on the touch screen by simply pushing the Start button. They can be configured to meet a wide range of requirements, from a stand-alone version for laboratories with a relatively low sample volume, up to a fully equipped system for high sample volumes in an industrial environment.
The system includes the extensively upgraded version of its DiaMet software. Designed for operation by mouse or touchscreen, the system offers expert users the required flexibility and broad feature set for planning, running, analyzing, documenting, and archiving of individual measurements and measurement series. At the same time, the new software enables less extensively trained operators to work quickly and efficiently. The new version contains features designed to facilitate and accelerate specific applications, such as the documentation of the hardness distribution in welds, or the depth of hardening in induction-hardened workpieces, or parts treated with conventional hardening processes.
About Buehler
Buehler was founded in 1936 by Swiss immigrant, Adolph I. Buehler, who saw a need for metallographic sample preparation equipment and optical inspection instruments for the steel and automotive industries in the Midwest USA.  Eighty years later Buehler is well established as the world's leading supplier of materials preparation and analysis instruments, equipment, consumable supplies and application solutions.
For more than 100 years Reicherter, Wolpert, Rockwell and Wilson have designed and manufactured innovative and unique hardness testers.  Today Buehler continues in their path with new designs and technologies to meet growing demands.  In 2011, Wilson Hardness was combined with Buehler to provide a more robust product offering.
Buehler employees and operations are committed to delivering quality and environmentally responsible products guided by ISO 9001 Quality Management Principles and ISO 14001 Environmental Managements Systems.  Buehler innovates solutions and offers expert service and support throughout the materials preparation and analysis market.  
For more information, visit www.buehler.com.