BIG KAISER IMTS Booth, W-1600, Full of Innovation and Action
BIG KAISER is continuing down the path of digital tooling innovation with the introduction of the EWD EVO, a digital boring head designed with a single goal in mind—making the life of an operator as easy as possible. It will be synched with the new BIG KAISER smartphone and tablet app, which was developed to enhance user friendliness while assembling and running BIG KAISER boring tools. Not only will users be able to read the cutting diameter change, but the app will also help operators determine optimal cutting parameters from their tool assemblies. The app will also log historical adjustments for all tools ever synched with it, a critical piece for shops joining the smart manufacturing movement.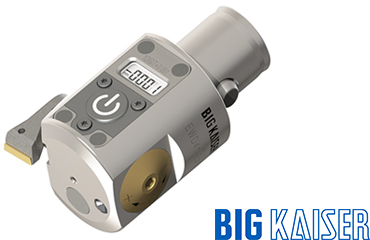 BIG KAISER's parent company, BIG Daishowa Seiki, is celebrating its 50th anniversary in 2016, and will be showcasing many new innovations around the globe this year. One is the expansion of the Smart Damper series of tool holders, which now includes a solution that can be applied to lathe applications. The Smart Damper boring bar features three modular insert holders, optimized for I.D. turning with common inserts.
The HSK-E25 lineup of tool holders is also expanding to now include BIG Daishowa's high precision, low runout Hydraulic Chucks. Available in Ø3, Ø4 and Ø6mm clamping diameters, with 1-micron runout at the nose, these holders are the perfect solution for precision finish milling work on ultra-high speed spindles on machines with small work envelopes.
These new Hydraulic Chucks will be shown in action at booth W-1600 on one of the two machining centers at BIG KAISER's booth. The 5-Axis Microlution 5100-S will be fully operational, and equipped with a 50,000 RPM HSK-E25 spindle, loaded with precision micro milling, engraving and drilling tools from Sphinx – including the new 80xD micro drill.
The Speroni Futura has undergone a significant enhancement with the introduction of pneumatic quick-change spindle adapters. To switch spindle adapters, the current design requires manual locking/unlocking of the spindle, which can be cumbersome and requires two hands. Now, with the touch of a button, the pneumatic quick-change system allows for fast, easy, one-handed exchange of adapters.
The focus at IMTS for BIG KAISER's Unilock Zero-Point workholding will be the plethora of new multi-axis workholding solutions. The new modular solutions locate and stabilize workpieces without obstructing access to the sides and top of the part. They also allow a clamped workpiece to be flipped into new orientations for subsequent operations without unclamping it.
About BIG KAISER
BIG KAISER is a worldwide leader in high-precision tooling systems and solutions for the metalcutting industry that guarantee extreme accuracy and repeatability. Our products are of the utmost quality — manufactured with materials and craftsmanship that enable superior performance. As a member of the BIG Daishowa Group (Osaka, Japan), BIG KAISER has grown into a well-recognized global tooling provider, with manufacturing facilities in North America, Europe and Asia.
Please visit BIG KAISER at us.bigkaiser.com.