SOUTHERN AUTOMOTIVE CONFERENCE SET FOR
OCT. 5-7

IN BILOXI

The Mississippi Automotive Manufacturers Association (MAMA) will host the 2016 Southern Automotive Conference (SAC), the region's premier automotive tradeshow, Oct. 5-7 at the Beau Rivage Resort & Casino in Biloxi, Miss.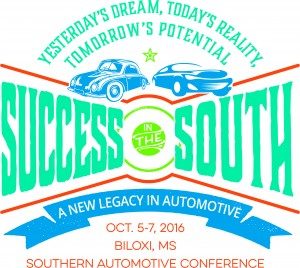 The SAC provides a forum for top executives from original automotive manufacturers (OEMs) and major suppliers to showcase new product developments, collaborate on best practices and discuss strategies to strengthen the region's burgeoning automotive industry.
This year's conference theme, "Success in the South," represents how manufacturers in the southeastern United States are meeting and exceeding the demands of the modern, fast-paced automotive industry. The conference, now in its ninth year, is projected to welcome approximately 90 exhibitors and more than 700 attendees.
"Since Nissan began production at its Canton, Miss., assembly plant in 2003, the state's automotive industry has achieved tremendous growth and remained in the global spotlight," said MDA Executive Director Glenn McCullough, Jr. "During the last 13 years, Mississippi has welcomed companies like Toyota, Grammer, Yokohama Tire, Feuer Powertrain and hago Automotive. Most recently, Continental Tire announced the location of its $1.4 billion commercial tire plant in the state. We are proud to once again host the Southern Automotive Conference, which will offer useful information to further advance the industry in our state and throughout the South."
Known for its world-class automotive production and sound business environment, the southeast United States boasts the fastest growing automotive industry in North America. It is home to more than 16 OEM plants and thousands of suppliers. These plants and suppliers have boosted the region's economy and created a significant number of jobs. New plants and site expansions are announced regularly, totaling billions in new investments.
MAMA is organizing the event alongside SAC partner organizations from Alabama, Georgia and Tennessee. The conference offers numerous networking opportunities, allowing attendees to interact face‐to‐face with potential clients and new business contacts from across the Southeast. The SAC also allows attendees ample pre- and post-conference opportunities to socialize.
"We are thrilled to bring this year's conference back to Mississippi's Gulf coast," said MAMA Executive Director Donald Stoegbauer. "The automotive manufacturing industry in Mississippi is booming, and we are proud to welcome people to Biloxi and the Beau Rivage to showcase our flagship event. This year, we are especially excited to partner with Cruisin' the Coast, which will bring thousands of classic and muscle cars to the Misssissippi coastline as they cruise from Ocean Springs to Bay St. Louis. Individuals interested in cars, the making of cars, talking about cars or just watching the classics, register to attend this year's Southern Automotive Conference!"
Highlights of the SAC's three-day program include:
Executives from Nissan, Toyota, Mercedes-Benz and Honda on the annual OEM panel, which offers an opportunity to highlight new innovations and discuss future industry trends.
Interactive workshop sessions that will connect presenters and attendees like never before, providing hands-on activities and tangible takeaways.
Multiple sessions focused on the importance of attracting, training and retaining Millennials within the automotive sector.
The "Stars of Southern Manufacturing" award that honors recipients who exemplify the best of corporate culture at Southern OEMs and top supplier companies.
Distinguished speakers including Mississippi Governor Phil Bryant and Tulane University professor Peter Ricchiuti, who will deliver the keynote address on the final day of the conference.
Speakers from IBM, STEM Premier, Alabama Robotics Technology Park, and many other nationally-renowned organizations.
An exhibit hall featuring 90 exhibitors and several networking opportunities for conference attendees.
About MAMA
The Mississippi Automotive Manufacturers Association was formed to provide a forum for interaction among automotive manufacturing companies in Mississippi. The organization serves its members by promoting the growth, development and improvement of the automotive industry.
MAMA members include both in- and out-of-state automotive manufacturers and suppliers, as well as non-manufacturing companies integrally related to the automotive industry in Mississippi. Associate membership is also available to companies that wish to support the industry, but do not have a direct affiliation.
To learn more about the Southern Automotive Conference, visit the event's official website, mamaonline.net/2016-southern-automotive-conference, or follow it on Twitter and Instagram @Southern_Autos.