Numerous German Companies Will Exhibit on Hannover Messe Industrial Technology Events Floor
This year, twice as many German exhibitors compared to 2014 will exhibit on the floor of the Industrial Technology Events powered by Hannover Messe. Across the five co-located shows, a total of 100 companies headquartered in Germany will exhibit. A number of factors such as lower exchange rates, the desire to create new market opportunities in North America, and the growth in U.S. manufacturing have created this spike in German industry participation at IMTS 2016. Some of the companies were driven to exhibit in the German Pavilion after experiencing U.S. manufacturing up close at HANNOVER MESSE 2016 when the United States was the official partner country for the first time.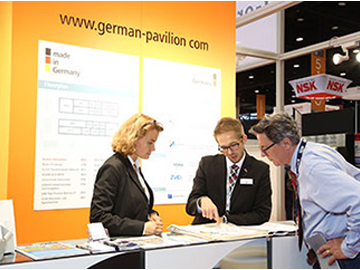 Visitors to Industrial Automation North America, MDA North America, ComVac North America, Industrial Supply North America, and Surface Technology North America will come face-to-face with German exhibitors who understand that many manufacturers attending these events are looking to upgrade their factories and plants. Well-known companies exhibiting in the include AGTOS, BLOCK Transformatoren-Elektronik, icotek, Maedler, PULSGETRIEBE, Rheintacho, Rotorcomp, and Venjakob. Key players headquartered in Germany with a significant U.S. presence include Beckhoff, Festo, Harting, Hydac, igus, Phoenix Contact, and Wittenstein.
Across the five shows, German companies will be showcasing advanced manufacturing solutions. For example, exhibitors on the Industrial Automation North America show floor will demonstrate factory automation, robotics and Industrial Internet of Things solutions. On the floor of the new ComVac North America show, German-based solutions providers will offer a range of air compressor and vacuum technologies and on the floor of the new Surface Technology North America show, exhibitors will showcase cleaning, surface treatment and finishing solutions.
AGTOS Head of Sales & Marketing Ulf Kapitza says, "We have been exhibiting at HANNOVER MESSE for more than 7 years, and the strong performance of the American exhibitors at HANNOVER MESSE 2016 in April encouraged us to sign up for Surface Technology North America. Also, we decided to sign up for the show because we believe it is exactly the right format and location for our products. The combination of our exhibition with the German Pavilion makes it a perfect hub for promoting our business to U.S. manufacturers."
Commenting on his company's decision to again exhibit at Industrial Automation North America, Jens Kramer, Head of Corporate Communications for BLOCK Transformatoren-Elektronik, says, "BLOCK has exhibited at HANNOVER MESSE every year since 1977 and has exhibited at Industrial Automation North America since 2012. Our latest achievement to expand in the U.S. was the foundation of a new production facility in the Chicago area. Since our products will be arriving at this new facility shortly, we can showcase our solutions to the North American factory automation, machinery and drive sectors attending IMTS 2016."
Another German highlight this year is the first-time Hannover Lounge – a co-operative effort by Deutsche Messe, Hannover Marketing & Tourismus, hannoverimpuls, and Hannover Airport. The Hannover Lounge will promote Hannover, Germany, as a business and tourist destination and will provide information about investment opportunities and establishing operations in the Hannover region for IMTS 2016 attendees.
The German Pavilion is supported by two well-known German industry associations: Zentralverband Elektrotechnik- und Elektronikindustrie e.V. (ZVEI) and Verband Deutscher Maschinen- und Anlagenbau e.V. (VDMA). In addition to Germany, China, Holland, Italy, South Korea, and Taiwan are also showcasing exhibitors in their country pavilions.