ACTIVE INDUSTRIAL SOLUTIONS (AIS) ACQUIRES RADIX
Advanced Manufacturing Powerhouses Combine Strengths to Focus on Manufacturing Excellence, Global Growth and are exhibiting in Booth E-4437
"Best-in- class" got better with the addition of Radix and their vision expertise to the Active Industrial Solutions portfolio. AIS's Automation Division is a leading North American supplier of automation equipment for Tier 1 automotive suppliers. With the addition of Radix to the AIS portfolio of industrial solutions, they are equipped to transform manufacturing excellence.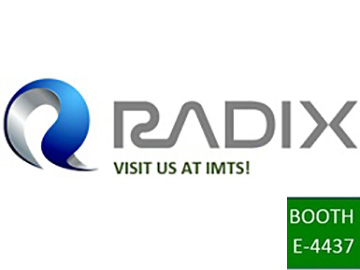 Situated within an international marketplace, the Detroit – Windsor corridor is the gateway for advancement in technology-based manufacturing for a wide range of industries. "The AIS-Radix acquisition is the perfect example of technology and manufacturing coming together to present the innovation and advancement that the world has come to expect" said Shelley Fellows, VP Operations of Radix and recent Athena Award recipient.
Precision manufacturing and cutting-edge technologies create expanded sector opportunities globally. Looking to the future, AIS is aligning talent and resources to be well positioned to compete in the global marketplace. With a local commitment and a global platform, AIS and Radix are well positioned for accelerated & sustained growth.
AIS's acquisition of Radix is taking a relationship that has worked and combining their strengths to create another level of excellence and quality assurance. Radix is the vision behind innovation and advancement of technology-based, best-in-class manufacturing.
"Approaching 40 years in business, AIS continues to combine deep customer relationships and proactive problem solving to deliver innovative manufacturing solutions. The addition of Radix to our portfolio allows us to address current industry needs and have a vision for what will be essential to excel in tomorrow's global manufacturing market. Radix is now one of the 'Active' industrial solutions" – Chuck Curtiss (President, AIS Automation, Gauge & Fixture)
"This is a relationship that just works. Both companies have grown their businesses globally and are focused on sustained growth and especially look forward to expanding our team in Canada and the United States. – Shelley Fellows (VP Operations, Radix)
About Radix and Active Industrial Solutions
Founded in 1994, Radix has been recognized for its innovative solutions for manufacturers, with award winning vision systems and other advanced manufacturing technologies at leading companies like Ford Motor Company, Magna and Toyota.
Active Industrial Solutions (AIS), a diversified leader in plastic injection molds, gauges & fixtures, precision machining and factory automation, has a strong history of value added solutions for a variety of manufacturing sectors.
Radix Inc and AIS are both privately held companies based in Ontario with operations in Michigan, Tennessee, Quebec & India.
For more information, please visit www.RADIXINC.ca.