NEW FANUC WIRE EDM SERIES MADE NORTH AMERICAN DEBUT AT IMTS 2016
New FANUC CiB Series Offers High Accuracy, Increased Speed and other Innovative Efficiencies
Methods Machine Tools, Inc., a leading supplier of innovative precision machine tools, 3D printing technology, automation and accessories introduced the FANUC RoboCut α-CiB Series at IMTS 2016 Booth# S-9119 at McCormick Place, Chicago, Illinois, September 12-17, 2016.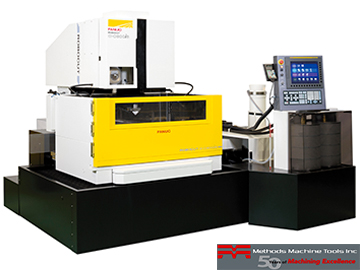 The FANUC RoboCut α-CiB Series includes the C400iB, C600iB and the new, larger C800iBWire EDM, all of which are built complete in Japan at FANUC's state-of- the-art robotic manufacturing facility. Accuracy is increased in the FANUC RoboCut α-CiB Series Wire EDMs via thermal displacement compensation, which compensates for thermal distortion of the casting when room temperature fluctuates greatly. Factory tests show that a 0.0002″ positioning accuracy and 0.0001″ repeatability are fully ensured, even during long burns.
Also contributing to increased accuracy is the CiB Series moving tank design feature. Unlike a moving column design that can be susceptible to lower guide position inaccuracy due to pitch and yaw of the column, the CiB Series Wire EDM column and lower arm are fixed, so the table and work piece move rather than the column, ensuring the highest level of accuracy. Machine speeds have also increased significantly, with a rapid traverse of 78.74″/min. – over twice the speed of previous machines.
In addition, "3D Compensation Function" reduces the need for indicating-in workpieces. This standard feature allows the operator to quickly measure the flatness of the workpiece and automatically tilts the wire to make it perpendicular to the surface of the work, greatly reducing set-up time. Another time saving feature is "Core Stitch" slug retention, which prevents slugs from dropping and eliminates the need for clamps, further increasing efficiency. And FANUC's Advanced Automatic Wire Feed System can thread through the kerf, which allows for full utilization of this feature.
All New FANUC C800iB Large Wire EDM
Offering a maximum workpiece size of 49.2″ x 38.4″ x11.8″ and a robust maximum workpiece weight of 5,000 lbs, the all new C800iBWire EDM is ideal for a wide range of work including large molds, stamping dies and challenging applications such as complex aerospace parts. In addition, an automatic dropdown door enables easy access to the work area and trouble-free loading/unloading of parts.
Advanced controls and monitoring
Several other important features come standard with each CiB machine, including the exclusive FANUC series 31i-WB Wire EDM CNC Controller with the new iHMI User Interface (Intelligent Human Machine Interface), large program storage capacity and remote PC access from handheld or desktop devices, and the new Cut Linki remote machine monitoring software (ver.2.1) that monitors up to 32 FANUC Wire EDMs, consumables life, and tracks machine efficiency, utilization time and has an easy maintenance service screen.
Similar to other FANUC EDMs, the new FANUC RoboCut C400iB, C600iB and C800iB Wire EDMs are capable of manufacturing complex components and offer seven-axis simultaneous cutting as an option.
"The FANUC RoboCut α-CiB Series provides our EDM customers with the latest FANUC technology that can help them increase their bottom line through the machines' increased accuracy, efficiency and throughput," said Mr. Stephen Bond, National Sales Manager for FANUC RoboDrill, RoboCut & EDM Products, Methods Machine Tools, Inc.
The α-CiB Series is equipped with the powerful, exclusive, user friendly FANUC 31iWB Control with a 15.1″ LCD touch screen. Models include:
C400iB X, Y, Z travels of 15.75″ x 11.81″ x 10.04″ and U, V travels of ± 2.362″.
C600iB X, Y, Z travels of 23.62″ x 15.75″ x 12.20″ and U, V travels of ± 3.937″.
C800iB X, Y, Z travels of 31.50″ x 23.62″ x 12.20″ and U, V travels of ± 3.937″.
About Methods Machine Tools
Methods Machine Tools, Inc., in operation for over 55 years, is a leading supplier of precision machine tools, 3D printing solutions, automation and accessories, providing extensive applications engineering support, installation, parts, service and training through a network of large state-of- the-art technology centers and dealers throughout North America.
For more information, please visit www.methodsmachine.com.