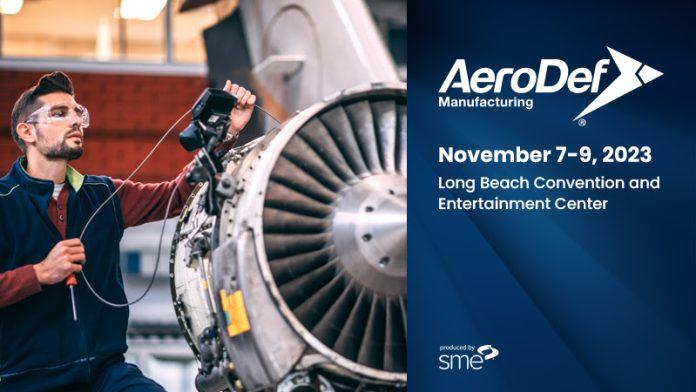 ​AeroDef 2023 is coming up — and we have a busy program planned!
We welcome thousands of aerospace and defense manufacturing professionals to AeroDef. As the field's premier conference, the show is a can't-miss event for anybody looking to stay at the forefront of innovation.
At AeroDef 2023, you'll unlock unmatched opportunities to connect, see cutting-edge technology in action and enjoy our high-quality educational offerings.
Whether you're thinking about taking the next step in your career or want to drive transformation in your current role, this trade show will equip you with the tools and insights you need to be a part of shaping the future.
On the show floor, you'll discover intelligent solutions designed to address your company's critical challenges. Plus, thanks to our outstanding reputation, we attract attendees from some of the best companies in the world — including Boeing, SpaceX, GE Aviation and the Army Research Laboratory. That means you'll be rubbing shoulders with industry leaders – many of whom are on the lookout for fresh talent.
Our field is evolving rapidly. To stay at the top of your game, you need access to the latest technology, ideas and trends — and AeroDef 2023 can deliver.
From innovative processes to hot new products, you'll find it all at AeroDef. Register now to secure your complimentary show floor pass.
AeroDef Manufacturing is an aerospace manufacturing and defense manufacturing conference and trade show for the aerospace and defense manufacturing industry. Produced by SME, in partnership with industry OEMs, our mission is to foster innovation across the extended enterprise to reduce costs, expedite production times and maintain manufacturing competitiveness in the global economy.
SUBSCRIBE to our Complimentary Publications: