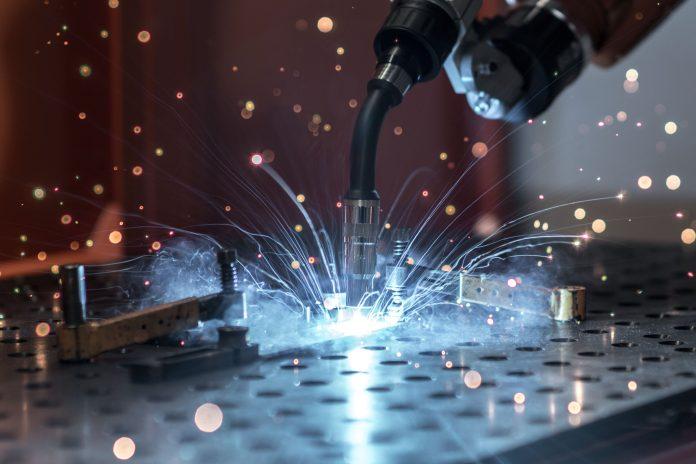 KUKA will feature its ready2_educate_arc education cart that includes a KR AGILUS and Lincoln R450 welder at FABTECH 2023. The all-in-one cart is mobile, fits through standard size doors, can be used without the welder for general training purposes, and can even be used for the manufacturing of smaller parts.
The cart also features a fume extractor, built-in fixture table and available options that include Touch Sense, Arc Sense, TRACC TCP and KUKA.Sim. KUKA also provides training courses and project-based digital lesson books with ready2_educate_arc. Developed as a complete starter package for schools, universities and company learning centers, the cart streamlines training and directly addresses current skilled labor shortages.
"The conference agenda for FABTECH includes more than a dozen sessions related to workforce development, retention or training," says Casey DiBattista, KUKA's Chief Regional Officer, North America. "Taking an active role in robotics training and education fulfills our promise to be a single source in automation for our customers and partners."
The ready2_educate_arc will be featured along with KUKA robots and product demonstrations in booth B27051 at FABTECH, September 11-14, 2023 at McCormick Place in Chicago, Illinois.
As with all KUKA automation solutions, the ready2_educate_arc and other featured products shown at FABTECH 2023 are backed by the company's expert service and support for training, complete system engineering and simulation, readily available spare parts, robot refurbishment and more. All of which are easily accessible through the my.KUKA.com site, and KUKA maintains corporate offices and production operations, along with integration partner facilities, conveniently located throughout North America to provide responsive customer service and support.
About KUKA
KUKA is a global automation corporation with sales of around 3.3 billion euro and roughly 14,000 employees. The company is headquartered in Augsburg, Germany. As one of the world's leading suppliers of intelligent automation solutions, the company offers customers everything they need from a single source: from robots and cells to fully automated systems and their networking in markets such as automotive, electronics, metal & plastic, consumer goods, e commerce/retail and healthcare.
SUBSCRIBE to our Complimentary Publications: