The University of Alabama (UA) College of Engineering is leading the way for innovation in workforce development through its recently established program, the Alabama Initiative on Manufacturing and Development (IMaDE). The mission of Alabama IMaDE® is to address the future of industrial problems through education, research and service with a systems integration and industry-mindset approach. The initiative will produce broadly educated students with a wide range of career opportunities centered on the future of manufacturing and will cultivate an American workforce to lead the global manufacturing sector through the fourth industrial revolution and beyond.
Key research areas and activities of the initiative include:
Developing a high-tech manufacturing workforce
Generating new manufacturing technologies
Training the next generation of engineers and managers
Incubating novel manufacturing concepts and startups
Revolutionizing additive manufacturing and repair
As part of the initiative, a recently constructed educational facility, located on UA's campus, enables combined classroom and hands-on, project-based learning in manufacturing systems — taught on real-world industrial robotic manipulators and software — as well as programming, operating and implementing automation systems such as programmable logic controllers. This state-of-the-art, multidisciplinary research and education center supports the developing manufacturing systems engineering program at UA, provides a location for technical educational research and promotes on-campus workforce development training in cooperation with industrial partners.
In conjunction with establishing the Alabama IMaDE® research facility, UA launched a new bachelor's degree in manufacturing systems engineering at the start of the fall 2022 academic year. The degree program, which is offered via both in-person and online formats, is centered upon preparing students for careers in manufacturing systems and processes with practical applications ranging from manufacturing processes to cyber-physical systems. Graduates of the program will be equipped to make substantial contributions in areas including design, productivity and quality control across a wide range of industrial entities.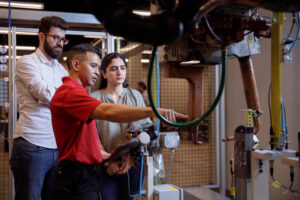 An Enhanced Focus on Industry 4.0 and Advanced Manufacturing
In order to fulfill the mission of serving as a premier hub for multidisciplinary research and education in intelligent and advanced manufacturing systems and processes, strategic emphasis has been placed on research related to Industry 4.0. Alabama IMaDE® is fostering a new innovation-centric culture and infrastructure that leverages and supports the region's vital manufacturing sector. Programs under this initiative will cultivate novel application-driven intellectual property and manufacturing-centric startups while establishing unique communication and networking channels between industry, academia and innovators. Alabama IMaDE® enhances the academic experience for students through real-world case studies, opportunities for internships, cooperative education and employment at the frontier of the emerging manufacturing sector through and beyond Industry 4.0.
According to Radley Scott, a research engineer for Alabama IMaDE®, a renewed focus on Industry 4.0 is more important now than ever before as many people are unaware of how greatly the fourth industrial revolution impacts them. "In today's world, for example, no one even thinks twice about placing an order on Amazon and their item showing up on the doorstep," Scott said. "There are so many different technologies involved and only a limited number of skilled people who are able to make these technologies work in unison. From the very first step of logging into your account and placing your order online, you are already a part of Industry 4.0. Starting at the Amazon server, down to the AGVs and robots that pick and place your item, and scanned barcodes, all were programmed and integrated."
As technologies continue to advance, Scott believes it is important for both individuals and companies to become better educated regarding Industry 4.0 benefits. "Industry 4.0 technologies and practices enable manufacturers to do more with less and allow companies to maximize their production output while distributing and using resources in a more cost-effective and efficient way," Scott advised. "They also contribute to a more reliable, robust and flexible production process. With that being said, as resources are becoming scarcer, and product demand is increasing, applying Industry 4.0 technologies can help businesses increase their production rate while decreasing raw material waste and increasing profits."
Groundbreaking Industry 4.0 Research
As part of its focus on Industry 4.0 education and development, Alabama IMaDE® is currently conducting leading-edge research in the area of human-robot interaction as the need for collaboration between humans and robots becomes more vital to successfully complete workforce tasks. This research involves the use of an E4 wristband, a wearable device that collects physiological data from participants such as heart rate variability, skin conductance and hand movement acceleration. Patterns extracted from the physiological data assist researchers in predicting human feelings and interactions with the robots. "Our team is developing research to increase humans' physical and mental safety when working with robots to complete tasks. In order to make the partnership safer, we are adding a layer of intelligence to the robot that tracks how its human coworker is feeling while the human and robot are working together. Therefore, this allows the robot to adjust its behavior based on how the human is feeling — nervous or comfortable — which will result in a safer process and will help maximize production outcome," Scott said.
The Future of Alabama IMaDE® and Industry 4.0 Research
As the Alabama IMaDE® initiative continues to expand, so does the promising future for Industry 4.0 research and workforce development. The program is currently proposing "the development of a series of modular courses to be offered regionally in West Alabama and rural job accelerators to be able to further expand the capabilities of the domestic manufacturing and supply chain through the transition of production jobs once technology is adopted," said Dr. Nader Jalili, director of Alabama IMaDE®. With unmatched technological capabilities and cutting-edge research already underway, The University of Alabama and Alabama IMaDE® will remain at the forefront of educating, training and connecting the future manufacturing workforce.
About the Author
Anna Claire Toxey is the Coordinator of External Communications for the College of Engineering at The University of Alabama.