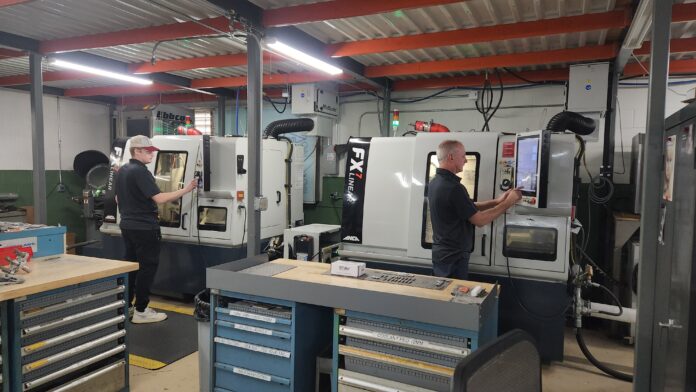 Slabe Machine (Willoughby, Ohio) owner Brendan Slabe had an epiphany a few years ago. "A friend in Connecticut told me about a CNC machine in his shop that was simple, easy to program and set up, run and verify tools of all types. It was an ANCA grinder. I mentioned it to my toolroom supervisor John Walker, who had no CNC experience but had great curiosity, being a master toolmaker. John investigated the machine to produce some very challenging variable helix endmills we were buying from an outside supplier. He came back to me a changed man as he realized that the part could be sampled on the ANCA in 'less time than it takes for a coffee break…and it's right, the very first time.'" In just a few years, Slabe was producing all the tools used at this production job shop on its 150+ machine tools. The company operates over 300 pieces of equipment total at its facility.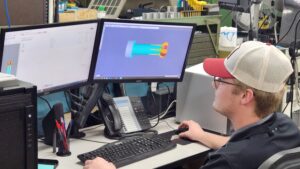 "Our robotically fed ANCA Tool grinders manufacture all the drills, endmills and custom carbide tools used by all our machines and thus eliminates the inefficient and costly process of quoting and procuring tools. Our Belair Vertical Drag Hones can then selectively and precisely hone and/or polish the edges of any tool or machine component, enabling us to be completely self-sufficient for all our tooling and grinding needs. Our Chevalier double-disc Fine grinders can grind/lap flat parts and tools down to sub-micron tolerances. The ANCA FX7 is the most technologically advanced CNC tool grinder on the market today – its flexibility, spindle power and full robotic automation allow the FX7 Linear to create, reconfigure or regrind any tool with exacting precision and incredible speed, according to Brendan Slabe.
He further details the company's use of the ANCA grinders, which now number three on the floor at Slabe Machine. "In a phrase, it's complexity made simple. Because ANCA builds its machine almost entirely in-house, including the CNC and the software used, we can take a job and produce the tools in far less time than in the past, when we relied on outside tooling suppliers." He cites examples such as complex flanges, helical shapes, challenging end geometries and more, where the prototype tools can be produced faster, allowing the part to be sampled and delivered to the customer in record times. This, Slabe notes, "…is a real door opener for us and ANCA assistance is a big part of that process. I consider them true manufacturing partners, similar to the three machine tool dealers from whom we buy most of our high-end machines to make the parts." Slabe has focused on aerospace since its inception in 1939, but today also produces parts for power generation, ordnance and medical end products, often involving very hard-to-machine materials.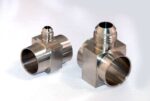 John Walker, the Slabe toolroom supervisor, says, "Our company has been doing business with ANCA for about six years. We have three ANCA FX7 machines making endmills for production on our 150 + machine tools, all in-house at Slabe. We make job-specific special endmills as needed, saving thousands of dollars making them ourselves. The ANCA FX7 has excellent software – easy to program for specific needs, so changing programs from tool to tool is quick and easy. The ANCA runs flawlessly day after day and we also run lights-out, which is outstanding about the FX7. You can set up before your shift is over and run tooling at night unattended. It has a FANUC robot loading system that loads tools, grinds them and unloads them, all day and night. The training facility at ANCA in Wixom, Michigan is second to none. Those folks are very professional and courteous. Our Regional Sales Manager Robert Straker greets you with a smile and handshake, Robert and our trainer Dan Morris are very knowledgeable and have a desire to help . Dan trained us extremely well and, when we call ANCA with questions, we always get the answer we need in a timely manner, a very helpful resource for Slabe."
Owner Brendan Slabe concludes, "At Slabe Machine, we specialize in manufacturing a wide variety of precision components for gas turbine engine and fuel system components. Our customer base consists of the world's largest aerospace OEM's, to whom we supply everything from complex external components used on all commercial turbofans to internal 'hot-section' augmentor and turbo combustor details, used in virtually all military engines in service today. Our company was founded in aerospace and, since 1939, we've grown to into an industry-leading source of supply for all parts made from any grade of Inconel, Waspalloy, Titanium, Hastelloy, Stellite, Haynes or Cobalt alloys. This variety of parts requires a lot of special tools for production and having the ANCA machines in the shop makes our job much easier and has taken our company to new heights in the aerospace market. As I said, they are a true partner to us."