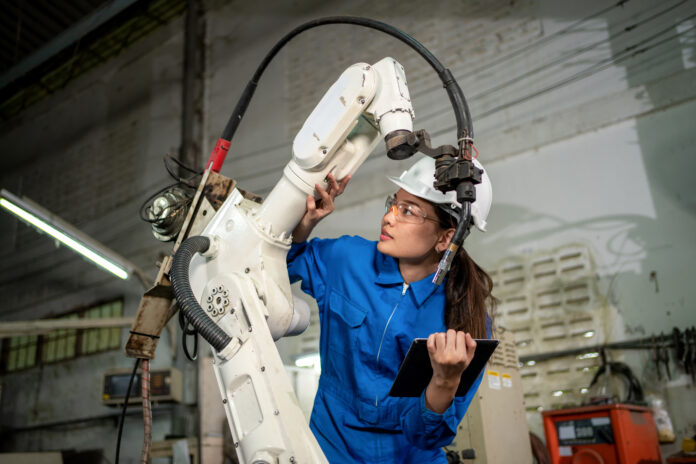 Advanced technologies, including high-performance robots, continue to build automation confidence and positively impact operational efficiency across the industrial landscape. To sustain a high level of productivity and associated cost savings, company leaders are implementing proactive measures to maximize robot reliability and safety – as fixing a critical asset once it breaks or addressing safety concerns after an unfortunate incident, is not a plan. Key steps manufacturers are taking include:
Implementing Life Cycle Management
While today's robots are extremely reliable and comply with stringent safety standards, each should have a well-maintained life cycle. Whether for installation, upkeep, continuous improvement, or retrofitting or redeployment, manufacturers should follow strict guidelines and maintenance schedules to facilitate peak performance. To better maintain the needed robot functionality, company leaders are placing greater focus on continuous improvement via data collection, and many are turning to factory automation monitoring systems that can instantly track, accumulate and visually deliver data throughout networked production environments.
Leading asset management platforms enable data-driven optimized planning for preventative and predictive maintenance, enabling proactive decision-making for more productive factories. From knowing when to order parts for future maintenance or when to change consumables for a weld process, to tracking the velocity of product movement for optimal bin assignment during a pick and pack process, these integrated solutions provide a wide range of alarms and prompts to keep operations running smoothly. Proven edge server platforms that use a leading OPC-UA interface, such as Yaskawa Cockpit™, support multiple brand devices, including robots and their peripherals, and collect information in real time to achieve this.
Measuring Robot Performance
A robot provides the greatest reliability when it is well-maintained. That said, most Tier 1 suppliers work diligently to keep their robot performance near a 99% efficiency rate, creating and executing a stringent maintenance strategy that seeks to eliminate breakdowns before they happen. While a one-size-fits-all approach to robot maintenance does not exist, completing preventative maintenance checks at regular intervals can help optimize robot performance for the utmost safety.
To minimize the deterioration of the asset and maximize robot uptime, measuring a combination of robot levels is suggested. From overall performance (where items such as path accuracy and part quality are tracked) to internal functionality (where things like grease levels, torque and cabling are monitored), there are multiple factors to consider. Attention should also be given to robot controller performance.
Often a marker for when upkeep is required, checking the condition of the gear reducers is a frequent maintenance test manufacturers use. This process typically includes:
Grease Analysis – A routine grease analysis for each axis serves to keep iron levels in range, as a spike could be indicative of a damaged drive. The type of grease to be used should always be referenced in the robot manual.
Manual Test – This test entails jogging the robot to reveal problem areas such as vibration and gear noise. As with other tests, this test may be helpful in determining whether a reducer is failing or has completely malfunctioned.
Torque Analysis – Typically performed by the robot brand manufacturer, this test measures the torque of the motors, looking for indicators that might show inconsistencies in the robot motion. A spike in the data generated during this procedure will typically reveal any inconsistencies.
Backlash Test – Also commonly performed by the robot brand manufacturer, this procedure uses a dial indicator to determine the amount of backlash in the gear reducer. For accurate readings, the robot and dial indicator are placed in a specific location.
While these checks do not need to happen as a collective, each should be utilized, as needed, to determine robot function. Keep in mind, maintenance intervals are based on servo hours (tracked in the robot), and it is typically performed every 6,000 servo hours. As always, individuals should reference the robot manual for guidelines specific to the model in use.
Whether a manufacturer assumes full responsibility for any of these tests or relies on scheduled visits from the robot manufacturer, there should be a clear plan in place that designates leadership, best practices, inventory strategies and action steps for reaching specific goals. If external technicians or contractors are required to complete specific tasks, scheduling should be accomplished at least six months in advance to accommodate busy schedules.
Deploying an Inventory Strategy
Especially helpful for 24/7 operations that may not be able to completely close for a scheduled shutdown, a growing number of manufacturers are stocking spare parts on-site to avoid long lead times for parts delivery. In this instance, historical data is often relied upon to know what parts may be necessary in the future. Commonly stocked items (with average replacement intervals) include:
Controller CPU battery – replace every three years
Controller air filter – replace annually
Controller fan unit – replace every three years
Gaskets / Gasket covers – replace every three years
Connectors – replace, as needed
Seals – replace, as needed
Cables – check frequently and replace, as needed
Teach pendants – test frequently and replace, as needed
Gear oil – replace every other year
Grease for bearings and pertinent parts – monitor often and re-grease, as needed
Part of a smart inventory strategy is to hold an annual planning session with a customer service representative from the robot brand manufacturer. This will serve to answer any questions and address other areas of maintenance that may have been overlooked.
Facilitating Employee Training
While all manufacturers should take proper precautions for robot operation and maintenance, companies that take a DIY approach should be especially careful. In fact, it is critical for robot programmers and maintenance staff to have the proper training to do the job correctly. Courses taught at an International Accreditors for Continuing Education and Training (IACET) accredited facility, such as Yaskawa Academy, are ideal. These locations provide hands-on instruction in application-specific classrooms with leading technologies, ensuring robot uptime and worker safety for a better return on investment (ROI). Supplemental training and support for robot maintenance, troubleshooting and repair can also be gained through user-friendly, yet comprehensive, web-based solutions, like RobotPro®.
Retrofitting Robotic Systems
The uncertainty to retrofit a robotic system is common. From downtime to cost, there is a lot to unpack. While concerns about low quality parts have been valid in the past, decision makers can gain confidence in the fact that technological advancements and safety standards have greatly improved part quality in recent years.
When smaller components, such as a power source or weld torch fail to deliver the desired quality, or something becomes a potential safety risk, the decision to retrofit is easier. When faced with the choice to add a robot to a current workcell or upgrade all together to meet throughput demands, things can get complicated. Regardless, an appropriate option can usually be agreed upon over the phone with the robot supplier or integrator.
In some cases, a representative from the appropriate vendor may need to make a site visit to determine the best retooling and equipment options to meet application requirements. Likewise, if a retrofit is being considered for a safety issue or a process change, a risk assessment may be required – as the American National Standards Institute (ANSI) safety standards must be followed and should be paramount when making any retrofitting decision.
When mulling over the decision to retrofit versus a complete upgrade, manufacturers should also consider the concept of using certified pre-owned robots. A growing trend, this option is often more affordable for small job shops and medium-size companies.
Maintaining Operational Success
Planning for repairs and retrofits is crucial to achieving long-term corporate goals, especially for suppliers with lights-out operations. From creating a monetary budget to applying the lessons learned from prior projects, a comprehensive plan with full directives should be followed. While doing this may seem excessive or unrealistic to some manufacturers, maintaining equipment and applying new technologies, when needed, can prevent costly breakdowns and unnecessary downtime.
A large part of executing a solid life cycle management program with preventative maintenance is having access to diverse support services. Whether 24/7 technical support is needed to diagnose a problem remotely, a field service technician is needed for rapid on-site support, or an emergency part is needed in the middle of the night, a committed robot supplier or integrator with skilled technicians goes a long way to maintaining safe operations and meeting production goals for maximum ROI.
About the Author
Chris Williams is Sr. Manager, Customer Care at Yaskawa America, Inc. – Motoman Robotics Division