OSG Introduces New EXOCARB ® ADF Flat Drill- One Drill Does it All
OSG is pleased to introduce the new EXOCARB ® ADF flat drills. Machining a flat hole traditionally required the use of an end mill and a drill. The ADF drill enables one- step drilling to simplify machining time and tool management. It is suitable for a wide variety of drilling applications including inclined surfaces, curved surfaces, counterboring, eccentric holes, half-hole and thin plates.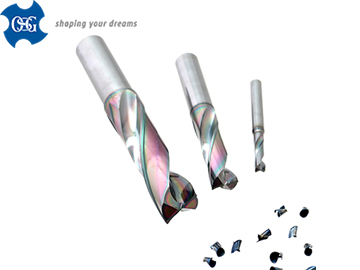 One of the prominent features of the ADF drill is EgiAs™ coating. It suppresses friction with the wear resistance layer and prevents breakage with the nano periodical layer. In addition, ADF's balanced form and cutting edge enable reduced cutting forces with smaller chips and stable hole entry.
When the ADF drills and conventional drills are compared in counterboring and processed over the center of a pre-existing hole, both drills show little to no positional inaccuracies. However, when it is necessary to process the drill off-center over a pre-existing hole, the position and straightness of the hole made with the ADF drill is 5 times more accurate than the conventional drills.
Also, the ADF drill minimized the amount of shift when drilling a half-hole as compared to both the conventional and competitor drills. Even when drilling on an inclined surface, the ADF drill maintained accurate hole position and resisted chipping.
About OSG
OSG is a leading manufacturer of taps, end mills, drills and indexable cutting tools. OSG's extensive line of high technology cutting tools features exclusive metallurgy, cutting geometries and proprietary surface treatments to help increase productivity, reliability and tool life. OSG also serves the fastener industry by offering a complete line of thread-rolling, flat, cylindrical, planetary and trim dies.
The company markets its products to numerous industries including automotive, aerospace, medical and die mold.
For more information about the new EXOCARB® ADF drills, visit osgtool.com/adf.