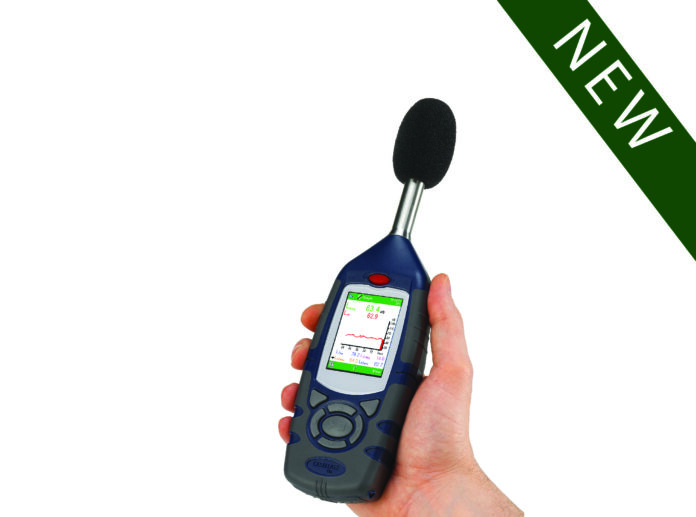 Global occupational hygiene and workplace hazard monitoring expert, Casella, has launched its enhanced 620 sound level meter to help protect more workers from noise-induced hearing loss (NIHL). The new device offers significant upgrades over its predecessor, providing users with a greater understanding of noise in the workplace and easier, faster ways to record measurement data.
Twenty-two million workers are exposed to hazardous occupational noise each year1, a figure nearly equivalent to the population of Florida. Prolonged exposure to excessive noise levels can cause life-changing damage because the harm to the sensory cells and other structures within the ears is irreversible, resulting in permanent NIHL. Eliminating noise at the source is always the first step to reduce the risk of NIHL and this can be achieved by using a sound level meter to measure noise, obtain concrete data and highlight key areas for change.
Casella's latest enhanced 620 sound level meter features time history profiling, enabling operators to see how noise has varied over a set period ranging from one second to 30 minutes. This provides a greater understanding of a workplace's noise climate and the tasks that need to be controlled to manage workplace noise. The time history can be further analyzed when downloaded, to perform 'what if' calculations on the effect of noise exposure when certain activities or noisy events are removed, ensuring more workers can receive optimal protection.
The enhanced 620 sound level meter also offers voice notes, allowing recordings to be taken at the start of a measurement run, saving time and effort taking manual notes. The voice notes can be played back once the data has been downloaded to a PC so that the information can be easily referenced. The marketing-leading feature allows for up to 33 hours of audio storage, and the device can store nearly 1,000 measurements up to 24 hours each, even with one second profiles, giving operators confidence that there will be sufficient memory without having to delete results on the go.
"We're thrilled to be launching the enhanced 620 sound level meter, which represents a significant step forward in our commitment to providing industry-leading noise measurement solutions," said Tim Turney, Global Marketing Manager at Casella.
"The number of workers affected by NIHL is alarming and employers have a crucial responsibility to protect workers' health from being damaged. With the right measures in place, more workers can avoid preventable but irreversible damage to their hearing and ensure they continue to perform their best."
About Casella
Casella is dedicated to reducing occupational health and environmental risks through a core competence in dust, noise and vibration monitoring. The company has provided precision instrumentation since 1799 and supplied eminent figures including Charles Darwin with instrumentation for exploration and scientific work. Casella's core purpose is to create technology aimed at improving the working environment of employees whilst providing robust data and equipment platforms to enable organizations to remain compliant with health and safety regulations.  The company is expert in the integration of sensor technology and data management systems that further improve productivity and overall safety in the workplace. Casella is a global business, owned by TSI Instruments Ltd, a UK subsidiary of TSI Incorporated, and has offices in the UK, US and India. Casella is supported by a network of distributors providing local service and support to those searching out solutions for risk reductions.