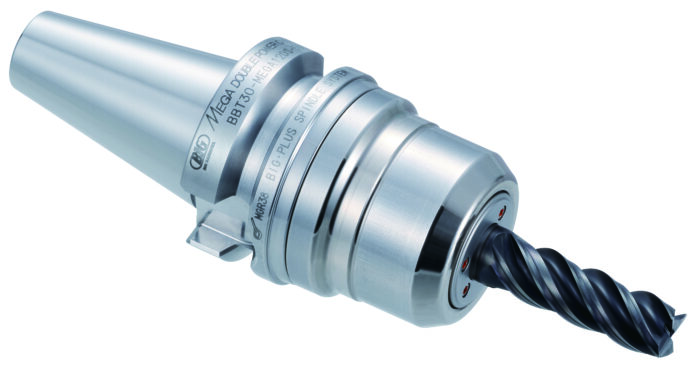 BIG DAISHOWA has announced a new addition to the MEGA DOUBLE POWER CHUCK lineup for heavy-duty end milling: the MEGA 12DS. Designed for trochoidal milling with anti-vibration end mills, the MEGA 12DS series features high rigidity and gripping strength and is available in BBT30/40, HSK-A, C for metric and BCV40 for inch.
The Mega Double Power Chuck system features an expanded contact diameter of the nut to the flange, which provides the highest rigidity—as if the chuck and nut were one solid piece. This superior rigidity ensures heavy duty machining without chatter.
The MEGA Series high-speed milling chucks are precision ground and balanced, with all components specifically designed for high-speed applications. Like the full MEGA DOUBLE POWER CHUCK lineup, the new MEGA 12DS series enables max of 30,000 RPM.
A secure, jet-through coolant supply enables improved surface finish, smoother chip evacuation, extended tool life, and better cooling and lubrication of tools.
About BIG DAISHOWA
As a member of the BIG DAISHOWA Group (Osaka, Japan), BIG DAISHOWA Inc. has grown into a recognized global tooling provider, with manufacturing facilities in North America, Switzerland and Japan. In addition, BIG DAISHOWA is the North American representative of Speroni tool measuring machines, Sphinx high-performance drills, mptec measuring stands, Tekusa spindle cleaners and the UNILOCK zero-point workholding system.