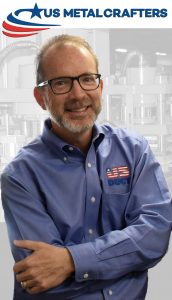 Q: I understand that you and your colleagues at US Metal Crafters purchased the assets of the company in 2018, but that it has actually been in business for the past 34 years.
A: That's right. We acquired the facility, the equipment, the accounts that were already on the books last November. We retained key employees so that we could benefit from their long years of experience. It was quite an experience to be able to hit the ground running so quickly. We are ISO 9001:2015 certified and currently finalizing our International Traffic in Arms Regulations (ITAR) compliance. Steve McDaniel is our principal owner, who provides seasoned corporate leadership and company vision. He has quite the proven track record. US Metal Crafters is a sister company to US Duct, one of his other successful businesses.
Q: Can you give us some idea of the markets you serve, and how you go about doing so?
A: We are involved in so many different industries that it's somewhat difficult to pull together a comprehensive list, but we're basically using roll forming, metal stamping, laser cutting, fabrication, and assembly, among other methods, to produce component parts that are used by a variety of OEMs. Some examples are in the solar industry, commercial and hospitality furniture, and access control industry, etc. We can either work from our customer's plans, or we can step in and provide prototype design service, including die manufacturing and maintenance. We have independent sales reps located around the country to assist our customers, and we also have an in-house tool and die shop, which is pretty rare, and allows us to cut our lead time on manufacturing dies by weeks by handling the work ourselves. That's a huge benefit for our customers since it slashes the lead time for their orders. In addition, we are a job shop for smaller orders and a production line manufacturer for larger blanket orders involving periodic PO releases.
Q: At this early stage of the company's development, what do you and your colleagues most want it to be known for?
A: The fact is, it goes without saying that we have to deliver quality parts on time. So, we do that. We ensure this by relying on continued equipment upgrades and utilizing engineering tools including Autocad 2020 (CAD), Fusion 360 (CAD/CAM/CAE), Metacam (CAD/CAM), Profil (CAD), Radan (CAD/CAM), and E-2 Shop Tech (ERP). And our pricing must be competitive and lead times reasonable. Still, what truly sets us apart is our people – we care about our customer's success deeply. So it becomes largely a matter of integrity. As we like to say, it's a matter of "promises made, and promises kept." We place a great emphasis on being dependable.
Please go online to us-metalcrafters.com for a complete list of equipment and capabilities.