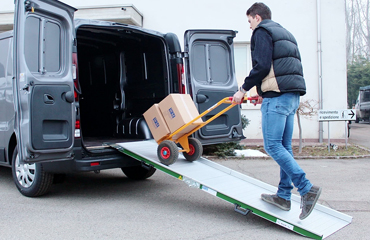 National Fleet Products Introduces Interior-mount, Spring-Assist, Swivel-Action WM System Loading Ramps for Rear- and Side-Door Applications
Lightweight, skid-resistant WM System Loading Ramps by National Fleet Products can be installed in as little as two hours, handle load capacities of between 880 and 4,000 pounds and are so easy to deploy and retract that even a child could do it.
Buffalo, Minn., USA (Oct. 10, 2017) — National Fleet Products, a leading North American supplier of loading ramps and other aftermarket accessories for commercial vehicles,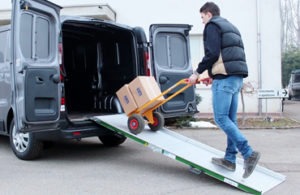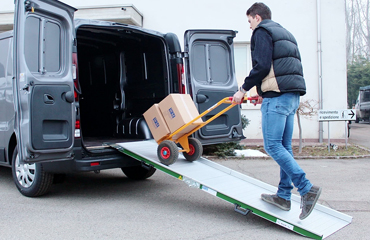 formally announced the introduction of several versions of its unique WM System Loading Ramps. Designed as a low-cost, maintenance-free alternative to hydraulic liftgates, WM System ramps are suitable for a wide array of vehicle applications, including everything from vans to box trucks to class-8 trailers and service and delivery vehicles of all types.
The ramps are intelligently engineered to vertically stow just inside rear- and side-access doors and take up approximately 8.5 inches of depth when folded and locked. With their built-in spring-assist feature and sturdy side handles, they require only about 20 pounds of force and about five seconds to unfold or be folded back into their low-profile vertical storage position.
"The ergonomic ease and simplicity of our WM System Loading Ramps is quite simply unparalleled within the commercial vehicle industry," Steven Peterson, president of National Fleet Products, said. "Compared to hydraulic liftgates, our WM System ramps require little training, are far faster, more reliable and operate for years with virtually no maintenance, not to mention our equivalent load capacities."
The ramps each incorporate a swivel-action mechanism that enables them to swing 90 degrees in and out like a door, allowing users to have unfettered vehicle access when the ramp is not in use. Vehicle-specific mounting plates are available for all major platform makes and models, and installation can take as little as two hours to complete.
Ramps permanently mounted or stored on the exterior of commercial vehicles can be exposed to a wide variety of chemicals and challenging environmental conditions that can result in equipment failures and high repair and maintenance costs. Dirt, moisture and ice can also accumulate on surfaces, making them slippery and hazardous to navigate. Small, rear-mounted liftgates often present a physical barrier as well and may, in some cases, interfere with a vehicle's ability to tow.
"By storing inside the vehicle until deployment, WM System Loading Ramps remain cleaner and drier than exterior-mounted hydraulic liftgates," Peterson said. "The aluminum WM System ramps come in both ridged and shot-blast anti-slip surface textures that significantly improve traction on inclined surfaces, while reducing the risk of injury from a loss of footing."
When required, a WM System ramp can also function as a bridge or gangplank for use with loading docks, vehicle-to-vehicle cargo transfers and access to other elevated surfaces like steps. Whether used as a traditional ramp or as a horizontal span, the WM System provides a remarkably stable surface for those working on and around it.
WM System Loading Ramps come in two-panel configurations in lengths of between 98 and 128 inches, and three-panel configurations in lengths of up to 16 feet. Ramp ends have rollers and adjustable flaps that can accommodate a wide variety of surface angles and textures.
Parties interested in scheduling a demonstration of the WM System Loading Ramp may contact National Fleet Products directly by calling(763) 762-3451 or by sending an email to sales@nationalfleetproducts.com. WM System Loading Ramps are in stock now and available in the United States and Canada through the company's extensive distribution network of convenient distribution locations. Please contact National Fleet Products to locate a distributor near you.
To view a WM System Loading Ramp video, please visit
https://www.nationalfleetproducts.com/light-plus-series.
About National Fleet Products
National Fleet Products is a leading North American supplier of aftermarket accessories for commercial vehicles, including loading ramps, vehicle-mounted hoist systems, ladder racks, truck and trailer fenders, exterior vehicle security locks and suspension assist spring kits. The family-owned company serves as a North American master distributor for renowned European product lines such as Jonesco Plastics, WM Systems, MAD Tooling and Serrature Meroni. The company serves the United States and Canada through its extensive distribution network. Learn more at https://www.nationalfleetproducts.com.