Stor-Loc introduces the WELD-STOR 1
Stor-Loc is highlighting it's Weld-Stor 1. The Weld-Stor series provides the best welding table with on-board storage of welders and accessories.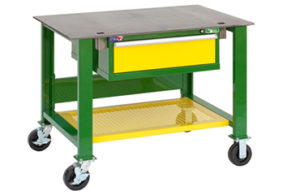 The Weld-Stor 1 provides a 48"x 36" work surface of ½" steel plate with (2) stringer holsters. It has one drawer with the capacity to hold 400lbs.
The Weld-Stor 1 is mobile and has four 1000lb. capacity heavy duty casters. All swivel with total lock brake.
About Stor-Loc
Originally designed in 1982, the Stor-Loc® Modular Drawer System was first manufactured in Switzerland. The initial design was a composite of all of the best features available in the market at that time. Back then, all manufacturers had a heavy duty modular drawer system and most were fully mig welded and had thicker gauges of steel. The original Stor-Loc® Cabinet introduced new features such as full length handles and a safety Interloc System. The patented Stor-Frame® System was also introduced with its unique combination of heavy duty drawers and shelving to offer the user more flexibility.
Today, Stor-Loc® is the only manufacturer that adheres to its original design characteristics such as all mig welded corners and Full Width 11 Gauge Fork Channels. Stor-Loc® is one of the few companies that does not use nylon rollers in their support system. Only Steel Ball Bearings and heat treated steel rollers are used providing consistent, lifetime drawer performance. Simply put, Stor-Loc® Cabinets are made the "Old Fashioned Way." The original heavy duty version of the Modular Storage Drawer Cabinet that was the norm in the industry until the early 1990s is now available only from Stor-Loc®. We are proud to offer our customers the most durable Modular Drawer Cabinet made in the world today, complete with a unique 55 year Satisfaction Guarantee.
For ordering or additional information, contact Stor-Loc at (800) STORLOC (786-7562) or on the web at www.storloc.com.