S

tor-Loc

®

introduces the

W

eld-

S

tor V

®

In response to the needs of it's customers, Stor-Loc® is offering its popular Weld-Stor® series welding tables with on-board storage of welders and accessories.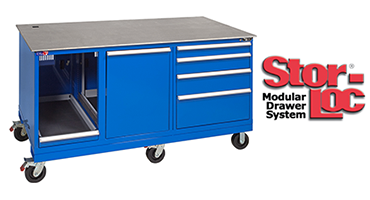 The new Weld-Stor V® provides a 72"x36" work surface of ½" steel plate along with compartments for a MIG welder and plasma cutter. It's equipped with vent-slot doors for air movement, a roll-out heavy duty shelf for a MIG welder and a full 27" door for a plasma cutter, providing security, protection and accessibility from the rear of the unit for wire changing.
The right bank houses four 400lb. Capacity drawers for storing welding supplies.
The Weld-Stor V® is mobile and has six 1000lb. Capacity heavy-duty casters: four swivels with total lock brake and two rigid.
Patrick M. Ryan, VP of Mfg. for Stor-Loc Kankakee, IL Passed away 6-25-2016.
A founder of the Stor-Loc Modular Drawer System, Pat recently celebrated 25 years in business and developed, engineered and innovated many products for CNC Tool Storage during this time.  Tool-Caddy, Tool-Rack, Stor-Caddy, Weld-Stor Series Welding Tables, and the MM Series Mobile Machinist Tool Cabinets were many of his innovations.  The Weld-Stor V was his last contribution to the Tool Storage Industry.
For ordering or additional information, contact Stor-Loc® at (800) STORLOC (786-7562) or on the web at www.storloc.com.