MEDICAL, MULTI-TASK CHASSIS STATION IS A SMOOTH OPERATOR
WEISS' TR1100 CHASSIS SYSTEM DRIVES 24- STATION MEDICAL ASSEMBLY PERFORMANCE EFFICIENCIES
A pioneer of direct-drive pick & place and multiple-axis modules, industry leading specialist for rotary tables and automation, WEISS (Buchen, Germany), and its subsidiary WEISS North America, Inc., recently completed three, turnkey TR1100, ring-style chassis systems for a leading west-coast medical parts manufacturer.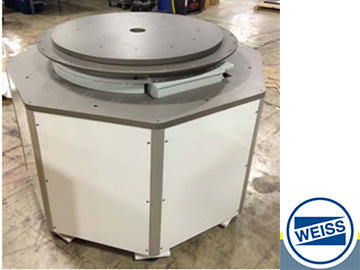 Their client's diverse medical product line provides patients and caregivers safe, innovative, life-enhancing medical devices that help improve patient outcomes by minimizing bacterial ingress that can cause bloodstream infections, and preventing exposure to infectious diseases or hazardous drugs. Their most recent manufacturing challenge was for a closed female luer valve, that would require a robust system featuring 24 install stations for a 3-5 piece assembly production process.
Whereas the medical parts client had only a small build shop, they sought out WEISS to provide a one-stop solution that would allow them to maximize efficiencies, while granting them more time to focus on multiple projects. They also desired a quiet, smooth running system for their clean room application.
The key to the WEISS solution involved their TR1100 ring style chassis featuring a ring indexer, stationary plates, and riser. These were all housed in a unique octagon-shaped frame design, that is enclosed with a guarding system on the lower half for protective access to controls and mounting automation.
The comprehenisve system was manufactured, tooled, mounted, and machined complete by WEISS at their Willoughby, OH facility, and delivered to the client as a superior, one-source, preassembled medical parts assembly solution.
TR1100 / MEDICAL MULTI-TASK CHALLENGE:
WEISS engineers faced the daunting task of building a base machine chassis that can accommodate 24 install stations for a 3-to-5 piece multiple size medical valve assembly process that included: loading, pressing, ultrasonic welding, leak testing, inspection, ejecting, etc.
Ultimately, this proved no problem for WEISS as the combination of robust construction of the TR1100 Series System and octagon frame design provided more than enough scope for coupling with the multiple processing stations.
At the heart of the system, the TR1100 Series rotary indexing rings feature a very large central opening (up to 1750 mm possible), extremely flat design, and a high level of parts accuracy. The ring-shaped design allows extra free design space, and the rotating aluminium ring can be adjusted to client's specifications in terms of diameter and thickness.
WEISS's TR1100 modified chassis design was based on the client's request for the octagon shaped frame beneath the top plate. This fully enclosed guarding undercarriage system is comprised of a combination of aluminum extrusion and sheet metal fabrications that included six bolt-on panels & two swinging door panels for access to controls. The entire frame was powder coated.
The frame extrusion also needed to be flush with both the top plate and the mount enclosure doors. The index table has a 2" thick aluminum riser, the octagon table top is 63" across flats and 1.25" thick. The 48" diameter aluminium dial plate is 1.00" thick and the 44" diameter stationary tool plate is 1.25" thick. All chassis system plates featured a hard coat anodized finish that is essential in providing superior durability.
Key TR1100 Rotary Indexing Rings Specs:
• High level of parts accuracy due to drive being positioned far toward the outside
Highly dynamic with smooth motion
• Flat, compact design
• Dial ring outside diameter: min. 1100 mm
• Dial ring inside diameter: max. 800 mm
• Ring thickness: min. 25 mm
• Overall height of assembly (from base to top of ring): 70 mm+ ring thickness
• Indexing precision (degree seconds): ± 18″
• Indexing precision in radian measurement: ± 0.048 mm (at ø 1100 mm)
HP70 / SPEED & ACCURACY ACCESSORY:
For mounting automation inside the guarding frame, the medical parts client also requested WEISS to rigidly mount some of their HP70 Pick-and-Place direct-drive components−designed for the application of multiple picks requiring speed and accuracy. The HP70s delivered 70mm of vertical stroke with 225 mm of horizontal stroke.
The HP70 Pick-and-Place direct-drive component is thinner (60 mm wide) than any linear motor or pneumatic module on the market today. Despite its unique compact design, it surpasses all previous Pick-and-Place units when it comes to speed−achieving over 100 cycles per minute with repeat accuracy of 0.01mm.
Key to the HP70's design, is a new drive concept that works with two linear motor axes that feature a unique 'knuckle' design on the y/z axis−virtually eliminating the need for another linear motor for the z axis.
TR1100 / MEDICAL MULTI-TASK CONCLUSION:
The collaboration with WEISS on their 24-station medical luer valve system provided the client with a turn-key solution that exceeded performance goals, while freeing up their time for ongoing multiple production project management.
Ultimately, the WEISS engineering group provided a superior, one-source medical parts assembly solution−delivering a 1.25 second index cycle time with an indexing table speed of .33 seconds−from station to station.
The intricate TR1100 Chassis System also leveraged WEISS' line of accessories such as the high-speed HP70 Pick-and-Place components to optimize automation goals. Additionally, the TR1100 ring indexers provided an exceptionally quieter shop experience for the client vs. previous system incarnations. They also delivered a smooth, jerk and impact-free running, and an extremely long service life.
According to WEISS' Director of Sales-Western Region Peter Fiouzi,"We've completed one chassis so far and have two more currently in production for the client. The two new ones are nearly identical to the first but just a bit larger in configuration scope."
About Weiss
An integral part of the Weiss global network, Weiss North America (ISO-9001 Certified) leverages over 45 years of reliable world-wide expertise to comprise an integrative, customer-specific approach to its vast array of electromechanical products. Our 100% vertical range of manufacturing ranges from rotary indexing tables, handling systems, and linear assembly systems−providing flexible technology for turnkey solutions that incorporate electronics, mechanical systems, software, and comprehensive engineering support. This enables us to provide pre-installed, intelligent, and highly convenient solutions for the entire field of kinematics.
For more information, visit www.weissna.com.