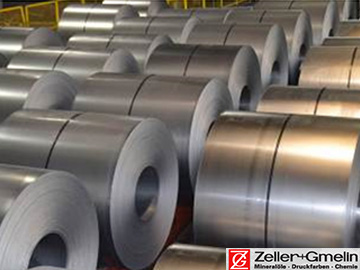 At the 24th international technology trade fair for sheet metal processing, the EuroBLECH 2016, Zeller+Gmelin presents its range of lubricants for sheet metal forming. The offer ranges from metal forming lubricants for the automotive industry to lubricants for roll forming and hydroforming. The new Multidraw product family for the automotive sector in its 2nd generation will also be introduced to the professional public.
The traditional company Zeller+Gmelin is celebrating its 150th anniversary this year. Since its beginnings in 1866, the Eislingen expert has become one of the preferred solution partners in the industry for lubricants, printing inks and chemistry. At the EuroBLECH 2016, Zeller+Gmelin will now present a wide range of innovative forming lubricants for a variety of processes and applications to professional visitors. "The EuroBLECH is the most important international fair for us as a manufacturer of forming lubricants for sheet metal forming", according to Zeller+Gmelin Product Manager, Katrin Hommel. "We have supported the sheet metalworking industry for many decades with our products and the industry appreciates us as a reliable supplier, innovator and solution provider."
New Multidraw series does not only score with the automotive industry

Thus, customers, partners and prospective customers can convince themselves of the innovative advanced range of the lubricant expert. Zeller+Gmelin has developed ground-breaking products, in particular in the area of low-lubricant metal forming in cooperation with partners in the automotive industry. At Zeller+Gmelin fair booth (Hall 27, Booth L42), customers can discover everything about the 2nd generation of low-lubricant sheet metal forming of the Multidraw series, which is used for the chipless forming of automotive parts made of steel for light, medium and difficult degrees of deformation. The variety of application possibilities is emphasized here.
Multidraw PL 61 SE – Prelubes for the effective oiling of rolling mills

A highlight of the fair is thus the new pre-lubricant Multidraw PL 61 SE which is primarily suitable for the basic oiling of all steel surfaces from the rolling mill and helps to reduce the zinc abrasion during the forming process of hot-dip galvanized surfaces. In addition, the product has optimal draining-off inhibition, as well as excellent compatibility with all non-coated and coated sheet metal surfaces. The specially developed corrosion protection with forming properties offers an optimal preservation of semi-finished products for storage and transport – even under extreme climatic conditions. Due to its innovative composition, the pre-lubricant is ideal for chipless forming, such as stretch forming and ironing. Additional lubrication before forming in the press plant is frequently unnecessary. At the same time, the latest requirements for the specifications of the automotive industry on removability and paint and adhesive impact are taken into account.
Washing oil, spot lube and coil coating agent for integrated use

In order to not only give the stamping plants a new prelube but a completely customized toolbox for their forming problems, a washing oil specially tailored to Multidraw PL 61 SE was developed with Multidraw KTL N 1 SE as well as a specially tailored spot oiling with MULTIDRAW KTL N 20. Thus the latter is predestined for the chipless forming of aluminium, steel, galvanized sheet metal and high strength steels of all kinds for medium to difficult degrees of forming. The new Multidraw washing oil KTL N 1 SE, in contrast, is used in coil and blank washers for cleaning before forming. It is characterized through good forming properties for light to medium degrees of forming. Multidraw Drylube E 1, a water-free coil coating agent with VDA approval for all metals (steel, galvanized steel, pre-phosphated steel, aluminium and stainless steel), also belongs to the family of the low-lubricant sheet metal forming. For better use, the hot melt leaves an anti-slip layer on the metal surface after application. The "semi-dry" film allows high degrees of deformation due to its good flexibility and mechanical properties.
"With our Multidraw second generation products, we take into account the currently increasing demands on stamping plants from high strength materials, complex design requirements, smaller lot sizes and new surfaces while reducing the use of metal forming lubricants", according to Product Manager, Katrin Hommel. "We look forward to every trade fair visitor who we must convince of the high innovative power of our products!"
Zeller+Gmelin at the EuroBLECH 2016 in Hanover, 25 – 29 Oct. 2016, Hall 27, Booth L42
About Zeller+Gmelin
Zeller+Gmelin GmbH & Co. KG, founded in 1866, employs over 900 staff globally and almost half of them at its headquarters in Eislingen With its 16 subsidiaries the medium-sized company operates globally. The product portfolio is split into the corporate sectors lubricants, industrial chemicals and printing inks. The high-quality products have acquired a leading position on the international market. Zeller+Gmelin offers both individual and holistic solutions from a single source ranging from research and development to production. Just how high the R & D portion is, can be seen not least in the fact that approximately 20 percent of the staff who are employed in Eislingen work in this area in order to further develop and optimize the innovative products to the market and customer requirements.