Extreme dimensional accuracy, maximum efficiency – under these specifications, external cylindrical grinding is an indispensable process for contract grinders, medical technology, general mechanical engineering and many other industries. However, especially for smaller series or prototype production, it is important to have a grinding solution that is as universal as it is flexible, and that can be retooled and configured in a very short time. How can process reliability and accuracy be guaranteed under these circumstances? EMAG Weiss provides an answer to this question with the W 11 CNC cylindrical grinding machine for workpieces with a diameter of up to 500 mm and a length of up to 1,500 mm. The entire technology is designed to perform a wide range of machining requirements in rapid changeover.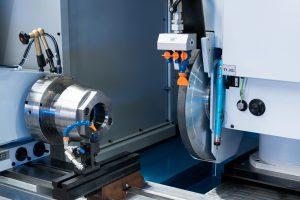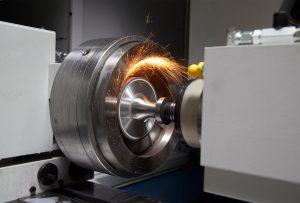 The initial situation is as familiar as it is challenging: many users in industry machine shafts and other rotationally symmetrical components using a final cylindrical grinding process. Subsequently, the surfaces exhibit exceptional precision and quality in the mu range. However, smaller quantities or prototypes thus become a special task, because each machine set-up takes a relatively long time – and, of course, any error must be avoided. In this context, the W 11 CNC from EMAG Weiss is a special solution: a CNC-supported external-internal cylindrical grinding machine, which can also be operated manually or be equipped flexibly with different grinding wheels. For example, when machining with one wheel from the side, one can use parallel machining with two external grinding wheels or the combination of internal and external grinding wheels (as well as many other variants). There are also few restrictions on the type of wheels – diameters of 400 or 500 millimeters and widths of 10 to 120 millimeters are possible.
Intuitive operation facilitates processes
The aforementioned flexibility is ensured by a whole bundle of measures. For example, the basic control system already contains all common grinding cycles. The operator calls them up via an easy-to-understand dialog interface and enters the required dimensions via fields. In addition, automatic dressing, grinding of several diameters, saving of grinding sequences, contour dressing and taper grinding in path mode are all easily possible with the CNC control. However, the following always applies here: anyone who wants to carry out the process manually can do so at any time, bypassing the CNC control. In any case, the good accessibility of the machine facilitates the operator's work.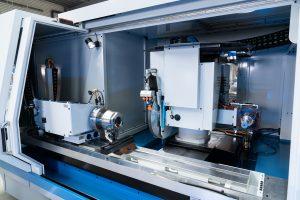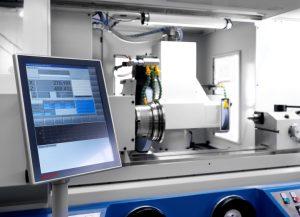 At the same time, the mechatronic details around the workhead, tailstock and grinding head of the W 11 CNC score points when it comes to executing fast changeover processes:
For example, the spindle mount (with MK4, MK5 or MK6 adapter) has a precision bearing, and the speed can be continuously adjusted from 1 to up to 650 rpm – even 2,000 rpm is possible as an option.
The tailstock (MK4) can be operated manually and pneumatically by foot switch. The quill holder with a stroke of 45 millimeters enables loading between centers up to a weight of 250 kg. Optionally, the machine can also be equipped with an NC tailstock with a travel of up to 300 millimeters for a maximum workpiece weight of 350 kg. In addition, manual cylinder correction is also another option.
Also standard (and important for flexibility) is a direct-drive B-torque axis for stepless swiveling and positioning of the grinding head with a resolution of just 0.0001 millimeters.
Last but not least, optional in-process measurement based on Marposs measurement control is available.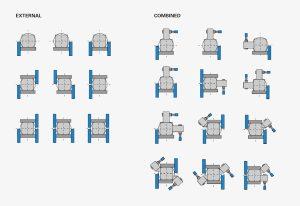 Changeover processes in just five minutes
The effect of this combination of high-tech equipment and intuitive control is demonstrated by various practical examples, as the machine is currently in use many facilities. For example, the experts at EMAG Weiss estimate that many changeover processes take just five minutes. This example shows its value in the production of part families with multiple component changes, leading to enormous time savings over a shift or a week – and always against the background of enormous dimensional accuracy with tolerances of just 0.001 millimeters. In addition, users have a future-proof solution that can handle a wide range of tasks.
SUBSCRIBE to our Complimentary Publications: