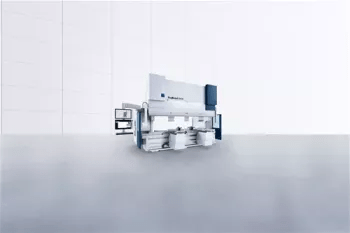 TRUMPF is bringing the latest generation of its TruBend 8000 Series to the North American market. With a 34-inch open height and a stroke of 27 inches, the TruBend 8000 bending machine offers a highly efficient way to bend very large parts, allowing workers to easily bend and remove workpieces that require a large box height. The press brake is available with numerous optional extras designed to facilitate the bending of heavy parts. These features include a bending aid that makes operators' lives easier by automatically positioning the workpiece for bending.
Starting with a press force of 440 tons all the way to 1,100 tons, this new generation of machines is an efficient powerhouse that has no trouble processing long, thick pieces of sheet metal. The machine is also suitable for bending high-tensile materials such as Hardox or Weldox engineering steels. Station bending is another option available with the TruBend 8000. By moving workpieces from one station to the next, each equipped with different upper and lower tools, workers can tackle a range of parts and bending operations without having to change the machine setup for each operation. This makes the TruBend 8000 particularly suitable for companies that bend large parts in small batches, including fabricators in the vehicle manufacturing, mechanical engineering, and building-services sectors. This model is also a great choice for general-purpose work in job shops.
About TRUMPF
TRUMPF is a high-tech company offering manufacturing solutions in the fields of machine tools and laser technology. The company drives digital connectivity in the manufacturing through consulting, platform products and software. The company is a technology and market leader in highly versatile machine tools for sheet metal processing and in the field of industrial lasers. In 2021/22, the company employed approximately 16,500 people and generated sales of about 4.2 billion euros. With more than 80 subsidiaries, the TRUMPF Group is represented in nearly every European country as well as in North America, South America, and Asia. The company has production facilities in Germany, France, the United Kingdom, Italy, Austria, Switzerland, Poland, the Czech Republic, the United States, Mexico, and China.
SUBSCRIBE to our Complimentary Publications: