Three New ZEISS Industrial Lenses for Large Image Sensors
ZEISS launches three industrial lenses suitable for applications featuring high image performance for different automatic image processing techniques.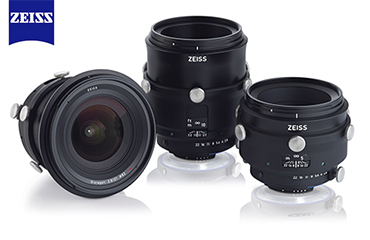 ZEISS presents three new focal lengths for industrial applications: the super wide-angle ZEISS Interlock 2.8/21 and the ZEISS Interlock 2/50 and ZEISS Interlock 2/100 macro lenses. All three impress with their high and unwavering image quality and precise manual focus. The three industrial lenses will be available with heavy-duty fixtures for focus and aperture from 1 July 2016.
The ZEISS Interlock camera lenses feature an image circle measuring 43 mm and are therefore suitable for line sensors of up to 43 mm (2 k – 8 k) or for area scan sensors of up to 24 x 36 mm (16 – 71 megapixels). "All ZEISS Interlock industrial lenses feature an improved fixture for focus and aperture which is also reflected in the new name: ZEISS Interlock," says Till W. Bleibaum, Product Manager for Industrial Lenses at ZEISS Camera Lenses. "The additional optimization of the lens coating further reduces ghosting and flare effects in critical light situations." The ZEISS Interlock lenses are available with either a F-mount or a M42x1 mount and replace the ZEISS Distagon T* 2.8/21, the ZEISS Makro-Planar T* 2/50 and the ZEISS Makro-Planar T* 2/100 for industrial applications.
High image quality and low distortion
"The ZEISS 2.8/21 super wide-angle lens of the type ZEISS Distagon offers virtually reflection-free, high-contrast images," says Bleibaum. The strengths of the ZEISS Interlock 2/50 and the ZEISS Interlock 2/100 are that they always ensure high image performance in the macro range as well as at long range. There is also very low distortion.
The ZEISS Interlock lenses are available from 1 July 2016 and are sold at well-known system providers for industrial image processing. A list of the sales partners is available on the ZEISS website (www.zeiss.com/lenses4industry). Prices and specifications available upon request. ZEISS also offers many other lenses suitable for industrial use with focal lengths from 15 mm up to 135 mm with a wide aperture and an image circle of 43 mm.
About ZEISS
ZEISS is an internationally leading technology enterprise operating in the optics and optoelectronics industries. The ZEISS Group develops and distributes semiconductor manufacturing equipment, measuring technology, microscopes, medical technology, eyeglass lenses, camera and cine lenses, binoculars and planetarium technology. With its solutions, the company constantly advances the world of optics and helps shape technological progress. ZEISS is divided up into the four segments Semiconductor Manufacturing Technology, Research & Quality Technology, Medical Technology, and Vision Care/Consumer Optics. ZEISS is represented in over 40 countries and operates more than 30 production sites, over 50 sales and service locations and about 25 research and development facilities.
For more information, please visit www.zeiss.com.