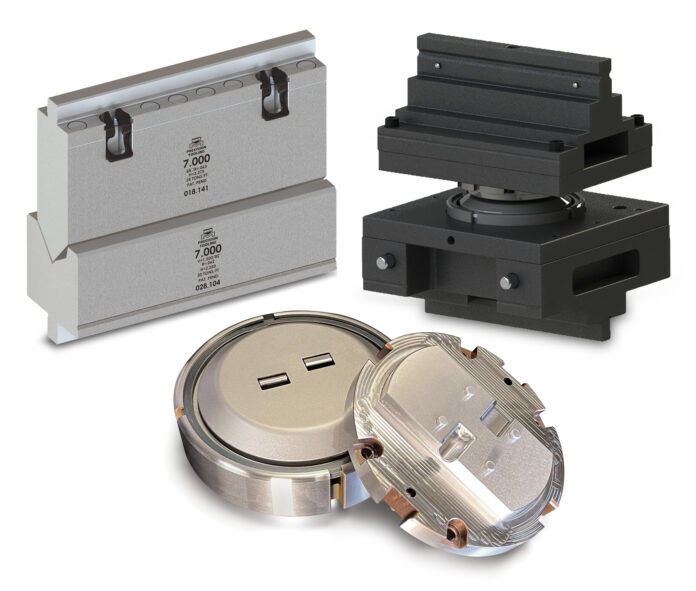 Mate introduces the One-Hit-Hinge™ tool that forms two sections of a curl on two separate knuckles, creating a closed circle. When assembled with mating forms, the pin is held securely in place by 360° contact. Since One-Hit-Hinge does not have to be formed straight up and curled down (3-hi style), the hinge diameter can be larger and will not interfere with the machine gap. Use the Mate One-Hit-Hinge to reduce the number of tool hits, increase form size and reduce part cost.

Expand press brake capabilities by forming sheet metal on your press brake with Ultraform PBT™. Ultraform PBT™ combines Mate's proven, top-of-the-line Ultraform® thick turret forming system with our newly improved universal press brake forming holder. Produce electrical knockouts, louvers, lance and forms, embosses and stencils on your press brake fast and easy.

The new Screw Pocket Lance & Form tool eliminates the need for a formed flange and the hardware. It creates a form in the edge of the sheet that is designed to receive the screw-thread directly. The hardware and secondary operation are eliminated and both components are fastened together securely.

See Mate's comprehensive range of punch press tooling for every major CNC punch press: Thick Turret, Trumpf Style, Murata Wiedemann, Thin Turret and Salvagnini. And the extensive product line of press brake tooling including American Precision Style with Maglock® magnetic safety system, European Precision Style, and Wila Trumpf Style.
SUBSCRIBE to our Complimentary Publications: