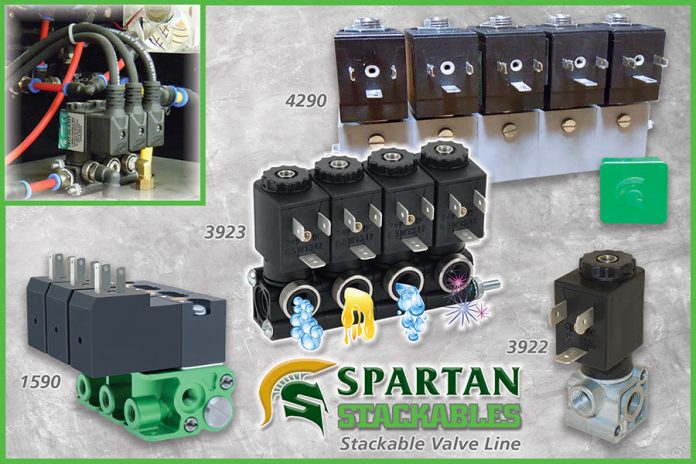 Spartan Scientific's Stackable Solenoid Valve product lines are used across many different applications and features the stackable body option. Giving you the ability to build manifolds as needed using one inlet and many outlets, the stackable feature eliminates leak points and the need for additional fittings between valves.
Spartan Scientific's stackable solenoid valve products are designed and manufactured using the highest grate materials and are 100% quality tested.
FEATURING:
Single station or several
One inlet with multiple outlets
Light weight, compact size with high flow
Easy electrical quick connect interface or flying lead
If you're tired of seeing your equipment fail every couple of years, let Spartan Scientific show you what we can do. Our industry leading engineers design and develop products that are built to last a lifetime.
Last month, (December 2019), Spartan Scientific logged a 97% On-Time Delivery rating. If you want reliability and peace of mind shipped out almost immediately, contact Spartan Scientific today.
About Spartan Scientific
Spartan Scientific was formed in 1987 with a mission to redefine industrial solenoid valves and related products. We started with DIN quick connect solenoid coils, quick mounting solenoid operators and interchangeable coil versions. Spartan has effectively reduced installation costs and related setup while reducing retrofits and service times. Spartan solenoid valves incorporate fully encapsulated coils and the highest quality brass and stainless steel in every assembly. Our solenoid operators can be placed directly into your assembly for a neater, more compact end product which meets functional as well as aesthetic demands. Many of the products manufactured by Spartan Scientific are specials, or variations of standard products.
Spartan strives to meet tough challenges with innovative design. If you do not see a specific valve or accessory, please ask one of our sales consultants for additional information or the possibility of Spartan producing a special product for your application. We are known for our quality solenoid valve timers, electronic shut off valves, air compressor drain valves, condensate drain valves and water drain pump valves.