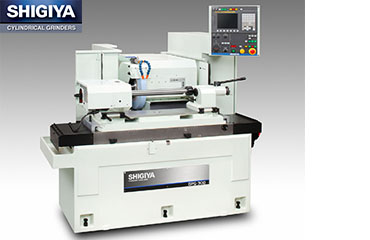 Accuracy Meets Affordability With SHIGIYA GPS-30B CNC Cylindrical Grinder
An ideal entry-level model, SHIGIYA (USA) LTD.'s all-new GPS-30B CNC Cylindrical Grinder offers high quality performance at an affordable price.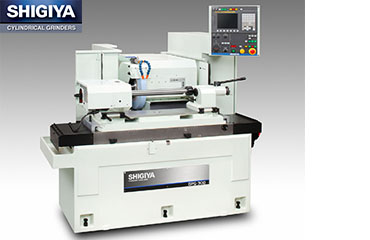 For exceptional accuracy and ease of operation, the GPS-30B is built with Shigiya proven and cutting-edge technology. A streamlined machine design, using common parts, and an efficient machine manufacturing process reduce costs and increase affordability.
The GPS-30B CNC Cylindrical Grinder boasts a range of high quality and rigid features to allow for heavy and precise grinding. In fact, Shigiya developed their own bearing grinder to grind the GPS-30B's non-concentric hydrodynamic bearings and ensure their rigidity and precision.
GPS-30B wheelhead and table head sliding surfaces have wide V and flat slide ways that provide sufficient rigidity and load capacity. The high dampening performance and equalization of the lubrication oil provided by the oil film's squeezing effect help the grinder maintain precision and smooth operation for decades. To prevent thermal displacement due to an increase in lubrication temperature, the wheel spindle oil is stored in an isolated tank. Because the wheel dressing device is mounted onto the lower table of the GPS-30B, there is no need to change dressing coordinates. A non-swivel wheelhead with a highly rigid main body and large diameter wheel spindle is available as an option.
For added convenience, Shigiya's exclusive interactive conversational programming system requires virtually no programming knowledge to operate. The system automatically sets up optimum grinding patterns and conditions after an operator enters numeric figures for three items. The system accommodates a wide variety of grinding and dressing patterns to facilitate high-precision cylindrical grinding. Data for up to 47 work pieces can be stored with maximum steps. Tolerance input is possible at the submicron level. A variety of alarm functions are included to prevent human error.
The GPS-30B CNC Cylindrical Grinder can change speed steplessly on the AC servomotor within a range of 15 – 600 rpm. Optimal rotational speed can be automatically determined by the interactive automatic programming system. To achieve high precision heavy grinding, the manual tailstock is mounted with a large diameter spindle that has been precisely processed.
The GPS-30 features a ø 300mm swing over table, maximum grinding diameter of 300mm and 500 – 2000mm distance between centers. Models with up to 750mm center-distance come equipped with a compact workhead and tailstock units.
About SHIGIYA
Established in 1991, Shigiya (USA) Ltd. sells and services cylindrical grinders, universal grinders, and specialized metal machine tools 100% manufactured at Shigiya Machinery Works Ltd. in Hiroshima, Japan. Shigiya machine tools and grinding machines have been meeting the diverse metal processing needs of the U.S. market since the 1970s. The extensive Shigiya product portfolio — from production-type to ultra-precision grinders, both small and large — fulfills the cost, volume, and specification requirements of myriad applications.
For more information, Visit IMTS Booth #N-7463, or contact SHIGIYA by visiting www.shigiya.com.