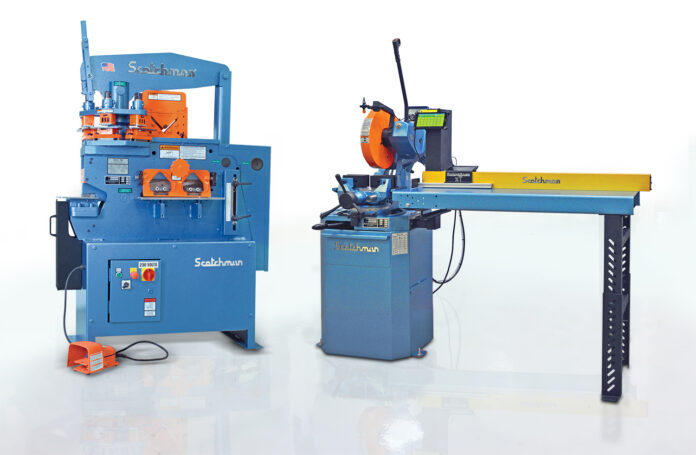 The latest Scotchman Industries metal fabrication and sawing systems to be shown at WESTEC 2021 in Booth #851. Scotchman will perform live product demonstrations continuously throughout all 3 days of the show featuring the benefits of the latest equipment for general to heavy-duty metal fabrication.
Specific equipment to be shown at WESTEC include:
Come see the Scotchman RG Digital Quick-Stop, coupled with a Scotchman CPO 350 cold saw, turning a manual machine into a part cutting workhorse with repeatable accuracy. The CPO 350 is an industrial grade circular cold saw with 100º of mitering ability, a dual clamping self-centering vise, chip drawer and more. This saw has a 2-speed motor and utilizes up to a 14" diameter blade giving it a 4-7/8" OD round capacity which consistently produces burr-free, high-quality cuts. The RG Digital Quick-Stop measuring system delivers reliable stop position accuracy of ±.008". Operators can change lengths in a snap by using preset hotkeys and easily adjust measurements on the 7" touchscreen Android tablet. Or upload an entire cut list using its WIFI capabilities.
A must-see at the show, is the Scotchman 5014-ET Ironworker, the world's first and only 50-ton hydraulic ironworker with a 3-station turret. The innovative revolving turret accepts up to three different punch sizes that can be changed in seconds reducing set-up time and increasing productivity. This hydraulic ironworker features 50 tons of hydraulic pressure and can punch a 13/16″ hole in a 3/4″ plate with ease and comes standard with a 4" angle shear, 14" flat bar shear, and rectangle notcher.
Additional equipment models to be show include:
Cold saw model: SUP 500 non-ferrous upcut saw
Band Saw model: SU-280 G horizontal band saw with 30 degree (right) head swing
Electric Pipe Notcher model: AL1-2U electric driven tube & pipe notcher
The complete line of products includes: Hydraulic Ironworkers, Circular Cold Saws, Band Saws, Tube & Pipe Notcher/Grinders, Hydraulic Presses, Manual Measuring Systems and Programmable Feed & Stop Systems.