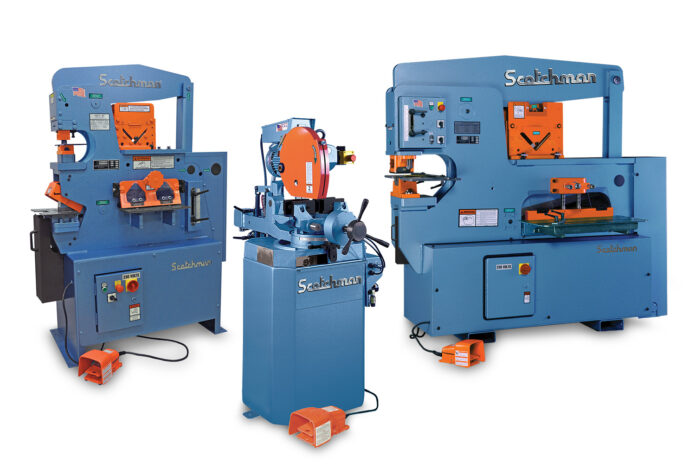 Visitors can see the energetic Scotchman Industries team perform live demonstrations on Ironworkers for punching, shearing, notching, nibbling, and bending steel plate, tube and angle stock. Sawing demonstrations will feature a 14" semi-automatic saw designed for solid mild steel and stainless steel and thick wall pipe.
Equipment featured at the show will include the Scotchman Industries 50514-EC ironworker. These versatile & dependable 50-ton hydraulic ironworkers come standard with an electric stroke control making them more precise than ever before! It has a 50- ton punch station with a capacity of 1-1/4″ hole in ½" material plus other standard features including: an angle shear with a shearing capacity of 4″ x 4″ x 3/8″ angle, a 14″ flat bar shear, and a rectangle notcher which will notch up to 2-1/2″ x 3″ in 5/16″ material.
The 50514-EC ironworker features a component tool table design with the ability to accept optional equipment, such as the 12″ press brake, rod shear, square tube shear, picket tools, pipe notcher, and special tooling, which is also available.
The Cold Saws to be demonstrated include a CPO 350 PKPD saw with semi-automatic operation. The design helps maintain the material integrity and eliminate deformation for cutting solid mild steel and stainless steel and thick wall pipe. The CPO models are industrial grade circular cold saws with mitering capabilities of 135° with a miter locking device allowing for quick & accurate stop setting at 45°, 90° and 135°.
Additionally, the CPO saws come with a 2-speed or variable speed motor and utilize up to a 14" diameter blade giving it a 4-1/2" OD round capacity which consistently produces burr-free, high-quality cuts; backed by a 3-Year Warranty.
A complete range of general to heavy-duty metal fabrication machinery from Scotchman Industries will be presented at booth #2331. Live equipment demonstrations will showcase the features and benefits which can be achieved with these Scotchman products.
The complete line of Scotchman Industries products includes: Hydraulic Ironworkers, Circular Cold Saws, Band Saws, Tube & Pipe Notcher/Grinders, Hydraulic Presses, Manual Measuring Systems and Programmable Feed & Stop Systems.