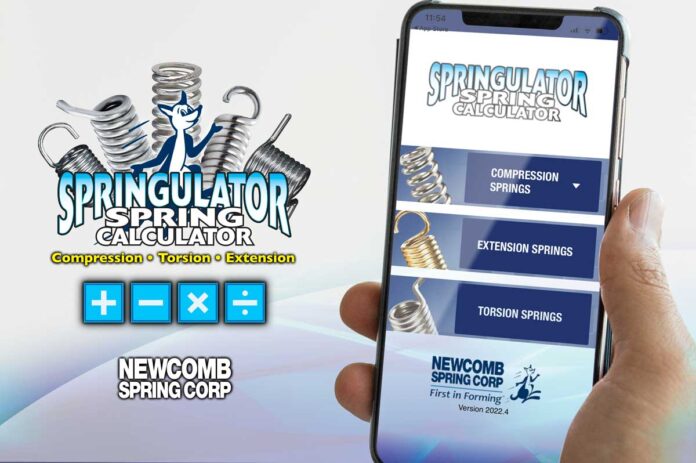 Newcomb Spring Corp., a worldwide supplier of custom manufactured springs, wire forms and metal stampings, is proud to announce the launch of the Springulator 2.0, an advanced version of its popular spring calculator app. Available on Google Play and the App Store, Springulator is a tool for engineers and designers who wish to check the stress of a design, calculate spring functions and test spring capabilities.
The Springulator is viewed as the best and most robust spring design calculator resource by industry professionals, allowing users to calculate an array of information with minimal data input. With easy-to-use functions, reference diagrams and stress charting, it provides data for compression springs (one or two load, rate based or dimensional), extension springs and torsion springs. Users can also provide calculation data to Newcomb for custom spring production.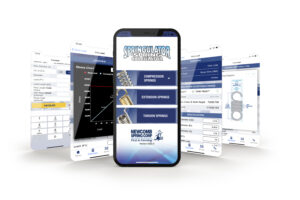 New features offered in the 2.0 version include:
• Added material types (including Inconel 600, Inconel X750, Hastelloy C 276 and Eligiloy) for all spring types
• Finish-type specification for all spring types
Choice of standard or cross-over hooks for extension springs
Suggested body length display for cross-over hooks for extension springs
Users can spec out coil gap for extension springs
Users can spec out leg length for torsion springs
• Supported on Apple iPhone and iPad, and Android
"We're proud to bring this new and improved Springulator 2.0 app to market for our industry professionals," said Dan Kelly, Corporate Sales Manager, Newcomb Spring Corp. "Offering seven robust spring calculators, Springulator 2.0 continues to be an unmatched tool for engineering support. Springulator 2.0 exemplifies Newcomb Spring's commitment to innovation and service for our spring and metal form customers."
About Newcomb Spring Corp.
Newcomb Spring Corp. is a leading global supplier of compression springs, extension springs, torsion springs, wire forms, stampings, rings, hooks and battery contact springs. The company's products are utilized in a variety of industries including aerospace, agricultural, automotive, computer, medical, military and telecommunications. Family-owned and operated, Newcomb Spring Corp. is headquartered in Alpharetta, GA and offers additional facilities in California, Connecticut, Colorado, Georgia, North Carolina, Tennessee, Texas and Ontario, Canada. Newcomb Spring operates with ISO-9001-certified quality systems and delivers a wide range of material capabilities in the manufacture of metal components, specializing in reliability, rapid response times and stringent quality control.