Latest generation CoroMill® 316 offers greater flexibility
The new CoroMill® 316 generation of exchangeable-head milling cutters from Sandvik Coromant further expands the company's established Solid Round Tools portfolio by bringing higher levels of versatility and productivity to machining operations in ISO P (steel) and ISO M (stainless steel) materials. Further benefits include high reliability in almost all applications along with enhanced tool life and a silent machining process.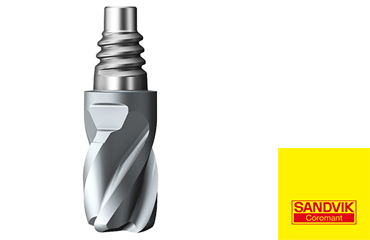 CoroMill® 316 is suitable for all general milling operations, including high-feed face milling, slot milling, helical interpolation, shoulder milling, profile milling and chamfer milling. The exchangeable heads allow users to easily and accurately switch between various operations, providing end mills with optimized radius variation, teeth frequency, geometry and grade. Beyond steel and stainless steel, the tools can also be used successfully in ISO K (cast iron) and ISO S (heat-resistant super alloys) materials.
"The latest generation of CoroMill® 316 adds longer cutting length to its list of attributes, delivering even greater flexibility for machine shops," says Tiziana Pro, Product Manager Solid End Mills at Sandvik Coromant. "Specific operations to benefit include those that demand higher axial depth, up to 1.2 x DC, as well as operations where high stability and vibration suppression are required. In particular, the combination of the modular Coromant EH system and CoroMill 316 provides a number of solutions for all types of machines and user challenges."
Manufacturers should choose Coromant EH as the preferred rotating modular interface for applications up to 32 mm (1.256 inches) in diameter. Integrated machine adapters with EH coupling are recommended for small interfaces where gauge line and swing diameter are critical (BT30, SK40, HSK40/50/63, ER, DTH), as well as different shank types in long overhang applications up to 35 mm (1.38 inches) in diameter.
CoroMill 316 is part of the extensive Solid Rounds Tools offer from Sandvik Coromant, which today includes more than 10,000 standard products to cover all applications within the areas of solid carbide drilling, milling, tapping, reaming and threading.
Solid Round Tools are purpose-designed to support workflow, efficiency and productivity, with each cutter positioned within three product categories: versatile, optimized and customized. Versatile solutions are performance-oriented tools based on maximizing flexibility and cost efficiency for users, while optimized solutions comprise a unique line of refined tools for specific needs where extreme efficiency, reliability and durability are paramount. Customized solutions are designed individually to meet the highest performance demands.
About Sandvik Coromant
Part of global industrial engineering group Sandvik, Sandvik Coromant is at the forefront of manufacturing tools, machining solutions and knowledge that drive industry standards and innovations demanded by the metalworking industry now and into the next industrial era. Educational support, extensive R&D investment and strong customer partnerships ensure the development of machining technologies that change, lead and drive the future of manufacturing. Sandvik Coromant owns over 3100 patents worldwide, employs over 8,500 staff, and is represented in 150 countries.
For more information visit www.sandvik.coromant.com.