Micromar 40 EWRi Micrometer With Integrated Wireless Data Transmission Simplifies Measuring
Mahr digital micrometer Micromar 40 EWRi, with integrated wireless, speeds and improves quality assurance, eliminating cumbersome cables and external transmitters.
Mahr wireless data transmission capability is now integrated within its new digital micrometer Micromar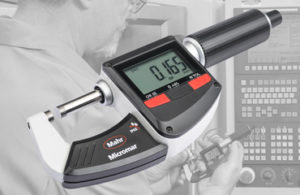 40 EWRi. The new 40 EWRi is the latest addition to Mahr's Integrated wireless family of products, including digital calipers, Indicators and depth gages, which allow users to measure faster, more easily and more reliably. Measurement data is transferred to an i-Stick on a computer without any interfering data cables, and MarCom software makes data acquisition simple: just take a measurement and transmit measuring data directly into MS Excel or via a keyboard code into any Windows program or existing SPC application. 
Micromar 40 EWRi is the first digital micrometer with large 10 mm digits on a high contrast digital display, making for safe fatigue-free reading of the measured values. It offers an easy to understand tolerance display and additionally displays warning limits. 
The reference system in the Micromar 40 EWRi makes handling the micrometer very simple since the zero position is set only once. This setting remains stored for all further measurements. Also, a new "Hold" function (digital lock) allows measured values to be "frozen" so they can be easily read.
Highly precise, the Micromar 40 EWRi micrometer is equipped with a state-of-the-art inductive measuring system that exceeds international standards. Class IP65 protection against dust, coolants and lubricants makes the Micromar 40 EWRi ideally suited for use in difficult environments in the manufacturing environment.
The MarConnect integrated wireless interface is active as soon as the i-stick is plugged in, and each micrometer/caliper/indicator is identified by signal coding in the MarCom software so there is no confusion as to signals. The micrometer confirms whether the transmitted data was transferred correctly, or whether the operator is in the receiving area of the i-Stick receiver. Since the wireless data transmitters are built into the micrometer/caliper/indicator, no interface boxes or additional batteries are required. Plus, integrating the transmitters into the gage electronics makes the units extremely energy efficient and can extend battery life up to 50% longer than competitive systems.
About Mahr Inc.
Mahr Inc. is a member of the Mahr Group, which has over 150 years of experience providing dimensional measurement solutions to fit customer application needs. The company manufactures and markets a wide variety of dimensional metrology equipment, from simple and easy-to-use handheld gages to technically advanced measurement systems for form, contour, surface finish and length. Mahr is also well known as a producer of custom-designed gages and a provider of calibration and contract measurement services. Mahr Inc.'s calibration laboratories are accredited to ISO/IEC 17025:2005 NVLAP Lab Code 200605-0 (see our Scope of Accreditation for accredited calibration processes). For more information visithttp://www.mahrexactly.com/.